All Recipes
|
Breakfast
|
Lunch & Light Dishes
|
Dinner
|
Treats
|
Key Recipes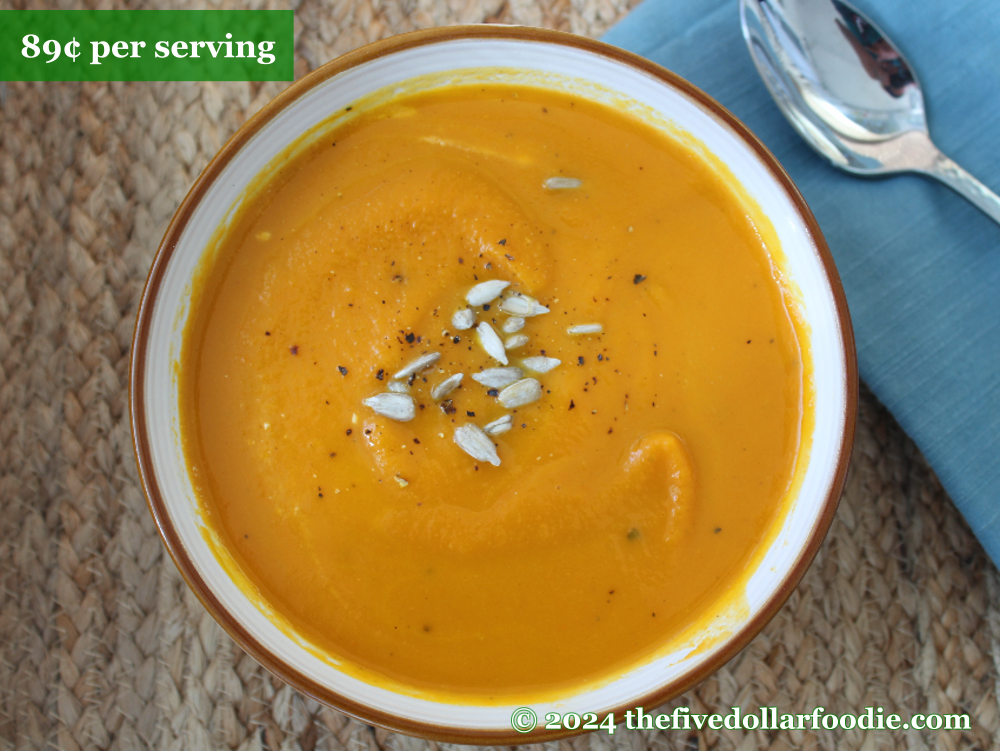 This is our family's favorite butternut squash soup recipe, and we've tried many. Carrot and ginger add warm layers of flavor that complement the buttery squash. Besides wonderful flavor, butternut squash has a lot to offer—vitamins A, B6, and C, along with carotenes and high fiber content. Our method involves roasting the squash in the oven to bring out its sweetness, and then blending the soup for a creamy result. This recipe makes a great main course served with salad and crusty bread, or a perfect starter for a fall feast. Serve it in mugs or at the table. It's always a hit with guests!
Makes 8 Servings - 89¢ per serving Show Detailed Pricing
1 butternut squash, cut in half lengthwise and seeds removed
2 tablespoons olive oil
1 onion, finely chopped
2 cloves of garlic, minced
2 carrots, chopped
1 tablespoon ginger
1/2 teaspoon salt, to taste
2 pinches black pepper, to taste
4 cups vegetable broth
* 1 teaspoon cinnamon
* 1 teaspoon nutmeg
* 2 tablespoons sunflower seeds
* 4 tablespoons yogurt or sour cream
*Optional ingredients are not counted towards pricing
Prep Time: About 15 minutes
Cook Time: About 60 minutes
Instructions:
Preheat oven to 350º. Drizzle the squash with a little of the olive oil, place cut-side down on a baking sheet, and bake for about 45 minutes or until the squash is easily pierced with a fork. Remove from the oven, let cool, and use a cooking spoon to scoop out the squash from the shell into a bowl.
Meanwhile, heat the remaining olive oil in a large soup pot over medium heat until it shimmers. Add the onion and saute about 2 minutes, then add the garlic, carrot, ginger, salt and pepper, and saute about 3 more minutes or until the onion is transluscent but not browned.
Add the vegetable broth, bring to a boil and then reduce heat, simmering about 15 minutes. Add the squash and simmer 5 more minutes to meld the flavors.
Carefully transfer to a blender or food processor, and blend until creamy. Add water if the soup is too thick. You can also use an immersion blender right in the soup pot, though the texture may not turn out quite as creamy. Return soup to the pot and taste for seasoning.
Serve in bowls or mugs and top with optional sprinkles of cinnamon and nutmeg, sunflower seeds, a dab of yogurt or sour cream.
Notes:
You can make a large batch of this soup ahead of time, and keep in the fridge for 3-5 days. Freeze any leftovers in an airtight container to enjoy later.
---
Review our Butternut Squash Soup:
Thanks for your reviewing this recipe! We are looking over your comments and will post as many as possible.
---