All Recipes
|
Breakfast
|
Lunch & Light Dishes
|
Dinner
|
Treats
|
Key Recipes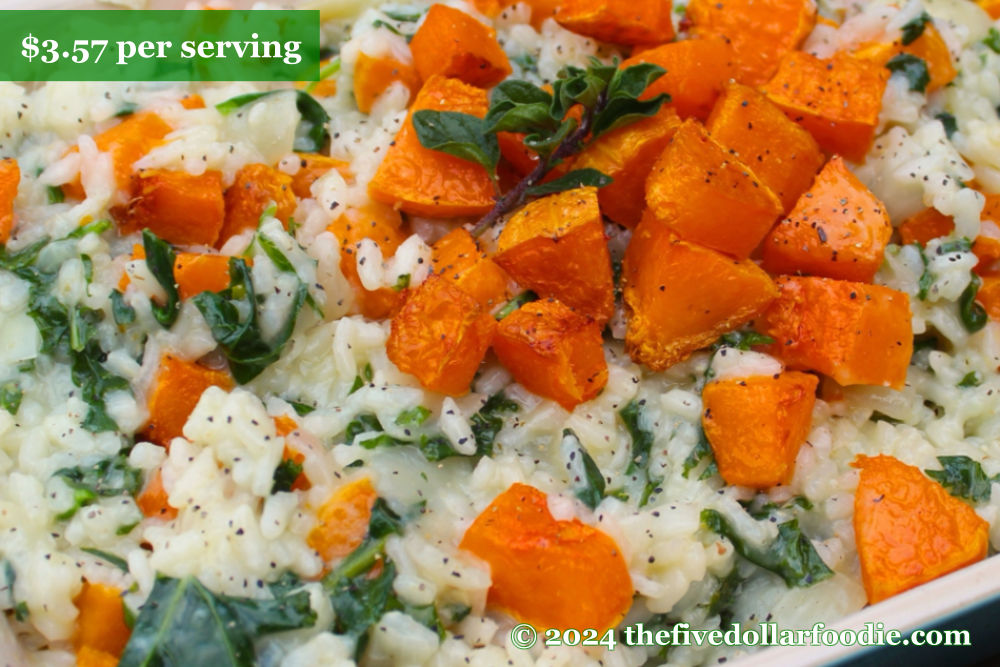 This classic Italian rice is made with some of our favorite winter vegetables: butternut squash and kale. Roasting the squash in the oven (while the risotto cooks) brings out its sweetness, which complements the rich flavors of the greens, onions, and garlic. We use arborio rice which, yes, requires some stirring, but we find that it can be stirred occasionally while we multi-task (and if we forget to stir it for a few minutes, it still turns out great). Why all the stirring? It breaks down the grain of the rice, rendering it creamy. Our whole family loves risotto, and we enjoy making it many different ways. Stay tuned for more versions.
Makes 4 Servings - $3.57 per serving Show Detailed Pricing
1 butternut squash, peeled and cut into cubes
2 tablespoons olive oil
4 cups chicken broth
2 tablespoons butter (or olive oil)
1 onion, chopped
3 cloves of garlic, peeled and minced
1 1/2 cups arborio rice
3/4 cup white wine
3 cups kale (chopped)
1 teaspoon oregano (fresh or dried)
* 1/4 cup parmesan cheese, grated (to taste)
* 1 pinch red pepper flakes
1 pinch salt and pepper, to taste
*Optional ingredients are not counted towards pricing
Prep Time: About 15 minutes
Instructions:
Preheat oven to 400 degrees. Place butternut squash on a large baking sheet, drizzle with 2 tablespoons of olive oil and a pinch of salt and pepper, and stir to coat the squash evenly. Bake for about 30-40 minutes, stirring once, until the squash begins to brown. Remove from the oven and set aside.
While the squash bakes, begin preparing the rice: heat the chicken broth (or chicken broth and water) in a small saucepan over medium-low heat until warm.
While the broth is warming, add two tablespoons of butter (or olive oil) to a large saucepan over medium heat. Add the onion, garlic, and a few pinches of salt and pepper, and sauté until the onion begins to turn translucent, about 2-3 minutes.
Next, add the rice and stir for 2 minutes; then add the white wine and stir for another 2 minutes, or until the wine is mostly absorbed.
Add a ladle-full of the hot chicken broth, stirring the rice every few minutes until it is absorbed (the rice cooks uncovered). Once it has been mostly absorbed, add another ladle of broth. Continue adding the broth in this manner, one ladle at a time, stirring around frequently. Add the chopped kale with the last ladle of broth, and stir for a few more minutes, until most of the liquid is absorbed. This whole process should take about 30 minutes. You want to cook the rice until it is al dente, so you may need to adjust cooking time and add a little more or less liquid, as needed (you can also use a little water if you are short on wine or chicken broth). Taste the rice to test for perfect doneness, more or less al dente as you like.
Remove from heat, stir in the squash, oregano, parmesan cheese and red pepper flakes (optional), and additional salt and pepper (to taste).
Notes:
For a vegetarian version, use vegetable broth instead of chicken broth, and for a vegan risotto omit the parmesan cheese.
---
Review our Butternut Squash and Kale Risotto:
Thanks for your reviewing this recipe! We are looking over your comments and will post as many as possible.
---
Amy D. on 11/1/2019
Love it. We've made it several times.
Rating:
Linda M. on 4/14/2018
I had never made risotto before yesterday, but I am so glad I did! Since one of my guests was gluten intolerant I chose it accompany your recipe Chicken with Plum Tomato and Prosciutto instead of using the orzo dish you recommended. I couldn't have chosen a better substitute as it turns out. Risotto is labor intensive, but oh my is it ever good! It made quite the impression on my guests! Maybe I am becoming a "gourmet chef" thanks to you.

P.S. Roasting butternut squash. What a great idea. Loved the roasted flavor.
Rating: