All Recipes
|
Breakfast
|
Lunch & Light Dishes
|
Dinner
|
Treats
|
Key Recipes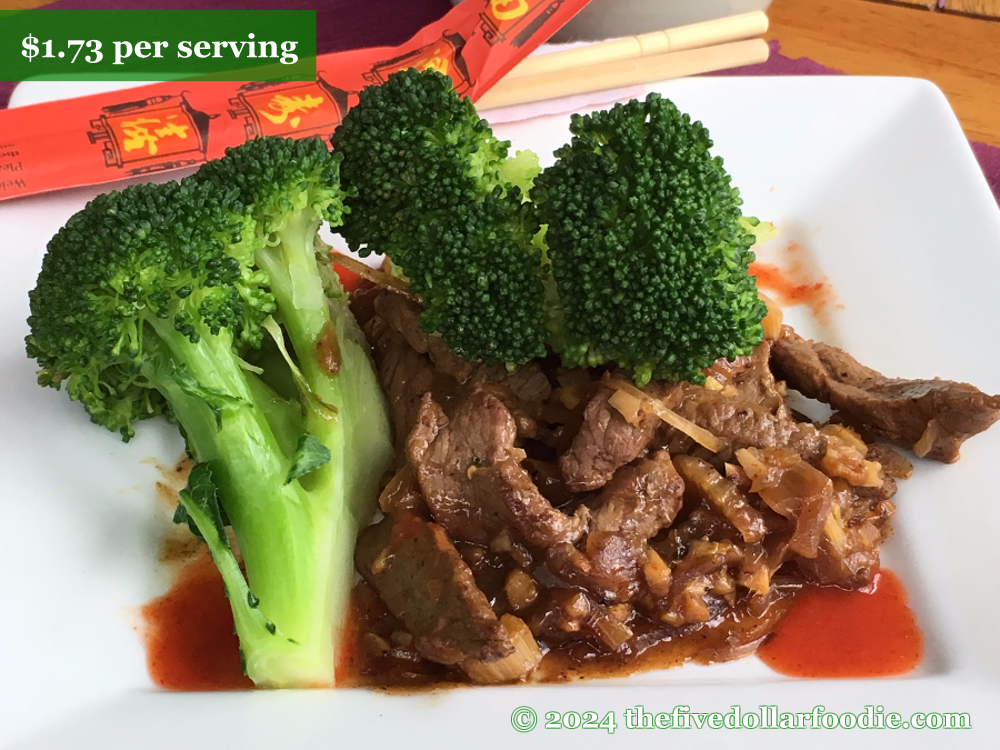 Quick, flavorful, healthful, and inexpensive—that's a good stir-fry! In our recipe, a zesty ginger sauce spikes broccoli and beef. Any number of other vegetables and protein combined with this sauce will make excellent eating and easy cooking, too. Think tofu with hoisin and cashews; fresh pineapple and pork; or mushrooms and spinach. At just $1.30 per serving, help yourself to seconds!
Makes 5 Servings - $1.73 per serving Show Detailed Pricing
For the sauce:
1 tablespoon fresh ginger, peeled and minced (about a 1-inch knob of ginger)
2 ounces white wine (you can use sherry or leftover wine)
3 tablespoons soy sauce
2 tablespoons sweet chili-garlic sauce
1 pinch sugar
* 1 teaspoon sriracha (hot chili sauce)
For the stir-fry:
3 tablespoons oil (mildly flavored, like canola or safflower)
1 pound broccoli, cut into bite-size pieces
3/4 pound beef chuck, top sirloin, or flank steak, sliced across the grain into thin ribbons, about 1/8" x 2"
1/2 onion, sliced
2 cloves of garlic, sliced
1 tablespoon cornstarch, stirred into 2 tablespoons water
* 2 scallions, sliced crosswise
*Optional ingredients are not counted towards pricing
Prep Time: About 20 minutes
Cook Time: About 20 minutes
Instructions:
Prepare the sauce by whisking together in a small bowl: ginger, sherry or wine, soy sauce, sweet chili-garlic sauce, sugar, and optional sriracha sauce.
In a wok or large skillet, heat 1 tablespoon of oil until shimmering.
Add broccoli florets and stir-fry about 5 minutes, or until browned at the edges, and then remove to a bowl. (Broccoli can be cooked in batches, if necessary.)
Add 1 more tablespoon of oil to the pan, wait a moment while it heats up to shimmering, and then add about half the beef and stir-fry 5 minutes to produce a light brown sear. Remove cooked beef to the bowl with the broccoli and repeat with the remaining beef.
Into the empty skillet add a little more oil (if skillet is dry), then add the onions and garlic. Stir-fry a minute or two to soften the onions.
Now add the sauce to the skillet and stir until it comes to a gentle simmer. Return beef and broccoli to the pan and give a few stirs to combine with the sauce. Add the dissolved cornstarch and stir to distribute it. Cook just until the sauce bubbles and turn off heat. If the sauce seems too thick, stir in 1-2 tablespoons of water.
Serve alone or with jasmine or other rice of your choice. Sliced scallions make an appealing garnish. Pass the sriracha sauce for those who like extra heat.
---
Review our Broccoli with Beef and Ginger:
Thanks for your reviewing this recipe! We are looking over your comments and will post as many as possible.
---
SUSAN S. on 1/4/2022
I made adjustments for what I had on hand: ground beef instead of flank steak, and it turned out great. My husband REALLY appreciated it and ate 2 helpings.
Rating: