All Recipes
|
Breakfast
|
Lunch & Light Dishes
|
Dinner
|
Treats
|
Key Recipes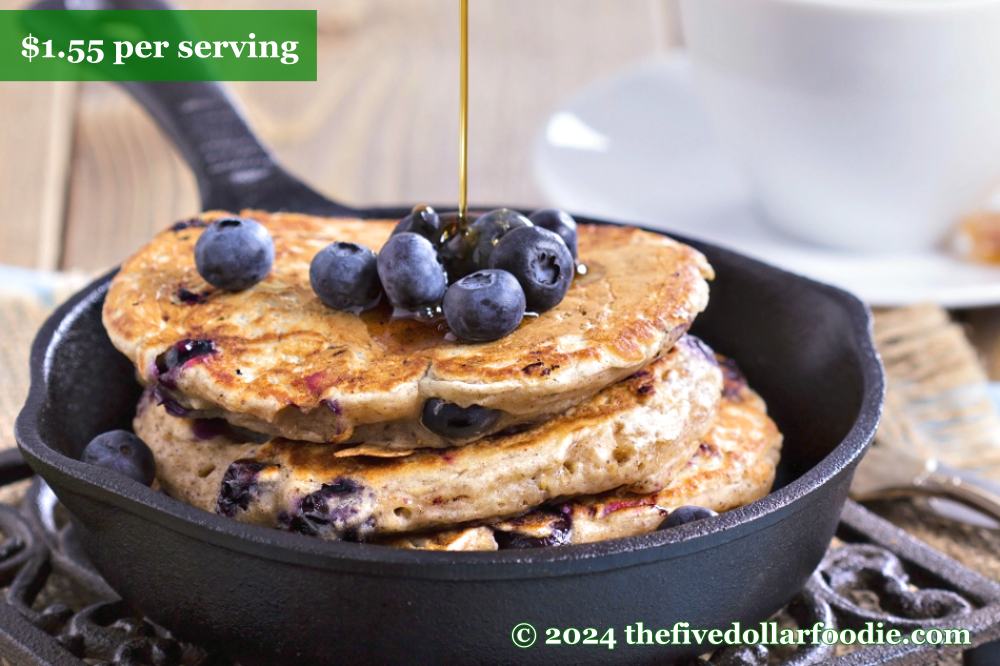 We love pancakes for a lazy weekend breakfast. This version is extra flavorful—and healthful—with whole wheat flour, fresh berries, nutmeg, and a rich maple butter syrup to top it all off. Enjoy these on their own or with a side of bacon on a weekend morning. If you have extra, set some aside for a quick weekday bite.
Makes 4 Servings - $1.55 per serving Show Detailed Pricing
1 1/2 cups whole wheat pastry flour (or white all-purpose flour, or a combination of the two)
2 tablespoons sugar (or honey)
1 tablespoon baking powder
1/2 teaspoon salt
1/2 teaspoon cinnamon
1/4 teaspoon nutmeg
1 egg
1 1/2 cups milk
6 tablespoons oil (or butter)
1 teaspoon vanilla extract
4 ounces blueberries (fresh), about 1 cup
For the maple butter:
1/4 cup maple syrup, warmed
1 tablespoon butter, melted
* 1 teaspoon confectioner's sugar (or cinnamon) for garnish
*Optional ingredients are not counted towards pricing
Prep Time: About 10 minutes
Cook Time: About 30 minutes
Instructions:
In a large mixing bowl, combine the flour, sugar, baking powder, salt, cinnamon, and nutmeg and mix well.
In a separate bowl, beat the egg, milk, 4 tablespoons of the oil (or melted butter), and vanilla.
Combine the wet ingredients (egg, milk, oil, and vanilla) with the dry ingredients and stir with a fork or whisk until no lumps remain, but do not overmix. Add about 3/4 cup of the blueberries (saving the rest to top the pancakes once they are done) and gently stir to combine.
In a griddle or large frying pan, heat 1/2 teaspoon of oil over medium heat until it shimmers. Using a ladle or a measuring cup, pour in about 1/4 cup of the batter (depending on the size pancakes you desire). Once the pancake edges have started to cook and small bubbles appear all over the surface (about 3 minutes), carefully flip using a spatula and cook the other side for about 2-3 minutes. Remove the pancake once it's light golden brown on both sides to a serving plate. Hold the pancakes in a 200 degree oven while you finish cooking the rest.
Continue cooking the pancakes, adding another half a teaspoon or less of oil to the pan between pancakes. You may need to lower the heat slightly to keep them from burning.
Mix the maple syrup with the melted butter in a small bowl or jug to make the maple butter.
To serve, top pancakes with the remaining blueberries, drizzle with maple butter, and sprinkle with confectioner's sugar or cinnamon (optional).
Notes:
For a gluten-free variety, try buckwheat flour or brown rice flour, or a mixture of the two.
You can make these pancakes with other fruits, if more available, such as blackberries, raspberries, sliced bananas, or small pieces of diced apple.
To save time, we like to mix up a quantity of the dry ingredients and keep it on hand as our own pre-made pancake mix. Then, all you have to do is add about 1 2/3 cup of the dry mix to the wet ingredients when you are ready to make a batch.
Pancakes can be kept in the refrigerator for a few days or frozen between sheets of wax paper in an airtight container to enjoy as a quick breakfast on weekdays—just bake in the toaster oven, or oven, at 350 degrees for about 10 minutes, or until they are warmed through.
---
Review our Blueberry Whole Wheat Pancakes:
Thanks for your reviewing this recipe! We are looking over your comments and will post as many as possible.
---