All Recipes
|
Breakfast
|
Lunch & Light Dishes
|
Dinner
|
Treats
|
Key Recipes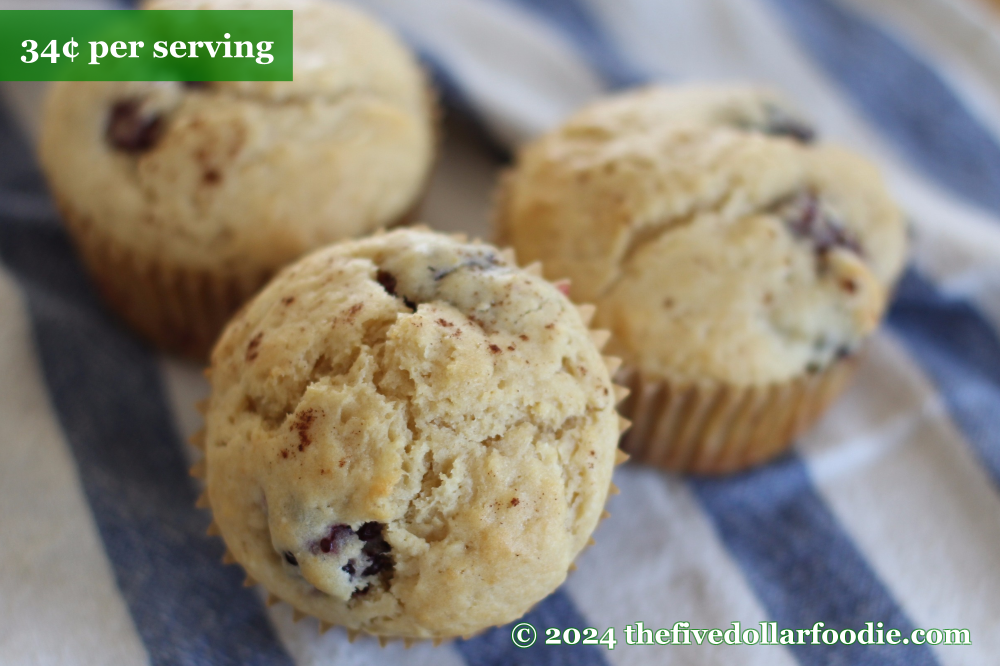 These homemade treats are not only easy to make, they are delicious, much healthier and, of course, cheaper (at just 39¢ per muffin) than store-bought ones. We used fresh blackberries, but raspberries or blueberries work great, too, depending on what is in season (or you can use frozen berries). These are a big hit with all of us for breakfast, and have been for generations — the recipe was adapted from our great-grandmother's original.
Makes 12 Servings - 34¢ per serving Show Detailed Pricing
2 cups flour
1/2 cup sugar
2 teaspoons baking powder
1/2 teaspoon salt
2 eggs
1/4 cup oil (a mildly flavored one like canola or safflower)
3/4 cup milk
1 teaspoon vanilla extract
* 1 lemon, zested
6 ounces blackberries, raspberries, or blueberries (fresh or frozen and well-drained)
1 pinch cinnamon
*Optional ingredients are not counted towards pricing
Prep Time: About 10 minutes
Cook Time: About 20 minutes
Instructions:
Preheat oven to 400 degrees. Line a 12-cup muffin tin with baking cups or grease the tin thoroughly and set it aside.
In a large mixing bowl, combine flour, sugar, baking powder, and salt.
In a separate bowl, whisk together eggs, oil, milk, and vanilla. Add the zest of one lemon (by finely grating the thinnest, yellow part of the peel) for another layer of flavor.
Combine the wet and dry ingredients, and mix quickly and lightly with a fork, adding the berries last. Tip: Do not overmix or bother to remove lumps or the muffins will be tough.
Spoon batter into the muffin tin and bake for about 20 minutes, or until the muffins are light golden brown and a toothpick inserted into the center of a muffin comes out clean.
Sprinkle with cinnamon or confectioners sugar (optional) and enjoy hot from the oven or at room temperature.
---
Review our Blackberry-Lemon Muffins:
Thanks for your reviewing this recipe! We are looking over your comments and will post as many as possible.
---
Barbara F. on 1/25/2018
Barbara F.
I made these lovely lemony muffins with my two year old grandson. The simple ingredient list and short preparation and baking times were perfect for the attention span of a toddler and the product pleased the whole family.
Rating:
Hadassah Z. on 1/21/2018
My eleven -year-old made these muffins for us on a snowy day they were delightful and super easy and fun to make.
Rating:
Michael G. on 1/20/2018
A wonderful easy muffin mix...a delight. (the lemon zest was a major plus)...I made this as a loaf...The cooking time I had to double, it was still moist and a nice crust on top.
This recipe is perfect for a quick treat and at the ready for a morning cup of coffee or an afternoon espresso...
Rating:
Alison F. on 1/19/2018
These lasted about 1.5 days in my house. Just enough tart to balance the sweetness. A perfect accompaniment for a morning cup of joe.
Rating: