All Recipes
|
Breakfast
|
Lunch & Light Dishes
|
Dinner
|
Treats
|
Key Recipes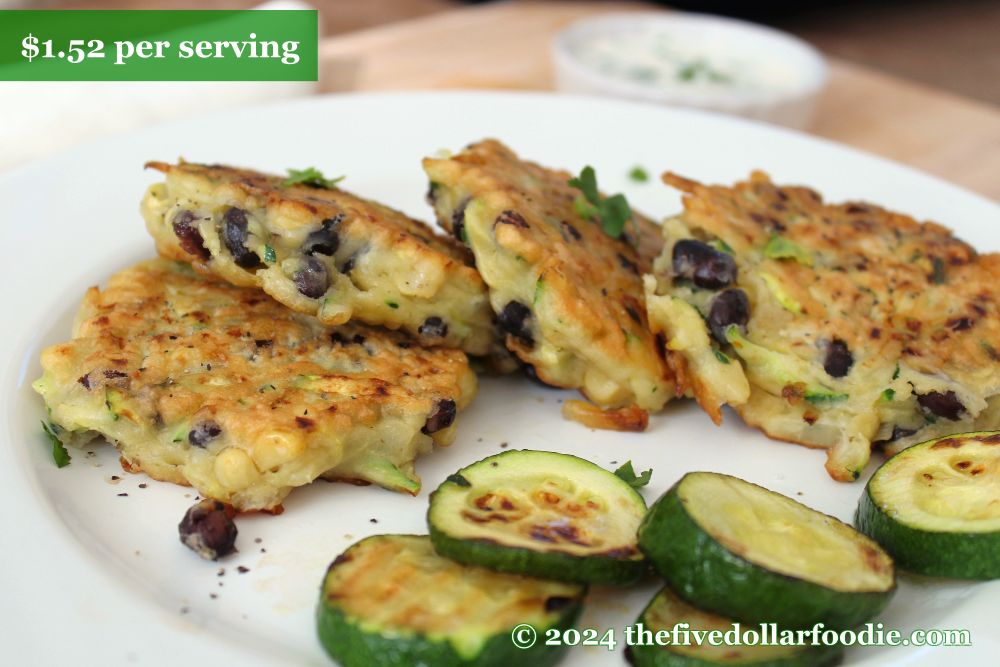 These savory pancakes are a great way to enjoy many different vegetables and create a satisfying and healthful meal. We started with zucchini, beans, and corn, the revered "three sisters" of Iroquois tradition, and gave it a Southwestern point of view with black beans and cilantro. Sauteéd onion adds a sweetness that complements the texture of the protein-filled beans and corn. You can substitute in almost any greens, grated carrot, sweet potato, bell pepper...whatever strikes your fancy, is on sale, or happens to be in the refrigerator. The cilantro dipping sauce is deliciously creamy and turns this simple meal special. We love serving this as a main dish with a side of sautéed zucchini (as shown) or on a bed of greens, though it also would be great as an appetizer or a side in smaller portions. Fritters are very adaptable and can easily be prepared with many different types of flour, including spelt, rye, or even brown rice and buckwheat flour for a gluten-free version.
Makes 4 Servings - $1.51 per serving Show Detailed Pricing
1 onion, small, finely chopped
3 tablespoons olive oil
2 zucchini, medium
2 eggs, beaten
1/2 cup milk (or vegetable milk such as soy, almond, or coconut)
1 cup flour or optional gluten free flour
1 teaspoon baking powder
1 1/4 teaspoons salt
* 2 teaspoons cayenne powder
1 cup corn, cooked (or frozen corn, thawed)
15 ounces canned black beans, drained and rinsed
For the dipping sauce:
1/2 cup sour cream (yogurt also work great)
3 tablespoons fresh cilantro, finely chopped
1/2 lemon, juiced (about 2 tablespoons)
1 clove of garlic, minced
1 pinch salt and pepper, to taste
* 1/2 teaspoon cumin
*Optional ingredients are not counted towards pricing
Prep Time: About 15 minutes
Cook Time: About 20 minutes
Instructions:
In a large frying pan, sauté the onion over medium-low heat in one tablespoon of oil until it begins to caramelize, about 7-8 minutes. While the onion cooks, grate 1 1/2 cups of zucchini. Slice any remaining zucchini into 1/4-inch-thick rounds.
Prepare the dipping sauce: In a small bowl, place the sour cream and stir in the cilantro, lemon juice, garlic, salt and pepper, and optional cumin. Return to the fridge until ready to serve.
In a large mixing bowl, whisk together the beaten eggs, milk, flour, baking powder, salt, optional cayenne pepper, and one tablespoon of oil. Add the cooked onions, raw grated zucchini, corn, and black beans to the batter and mix gently.
Add the remaining tablespoon of oil to the frying pan and set it over medium heat. Once the oil shimmers, ladle about 1/4 cup of batter into the pan to form each fritter (depending on the size of your pan, you may be able to cook three or four fritters at a time, as long as they don't touch each other). Smaller fritters are easier to flip. Cook for about 3 minutes or until you see small bubbles form around the edges of each fritter and they begin to brown underneath. Flip with a spatula to cook the other side about 3 more minutes. They should be golden brown on both sides.
Transfer cooked fritters to an oven-safe plate or baking dish and keep them warm in a 200-degree oven while you finish making the remaining fritters. You may need to add more oil to the pan between batches. Remaining zucchini can be sautéed in the same pan for about 3-4 minutes, or until attractively light brown.
Serve fritters warm, surrounded by sautéed zucchini, with chilled dipping sauce.
Notes:
The fritters freeze well in an airtight container and can be reheated quickly in a 350-degree oven--just until they regain their delightfully crisp edges.
For gluten-free fritters, substitute 1/2 cup of buckwheat flour and 1/2 cup of brown rice flour for the regular flour. In this version, you will need two extra tablespoons of oil in the batter to add moisture.
---
Review our Black Bean, Corn, and Zucchini Fritters with Creamy Dipping Sauce:
Thanks for your reviewing this recipe! We are looking over your comments and will post as many as possible.
---
Michael G. on 11/23/2018
This is a wonderful recipe! I used white navy beans...the Creamy Dipping Sauce is terrific and such a good complement...I made enough for lunch tomorrow...Bravo!
Rating:
Linda M. on 3/30/2018
Had a friend coming for a light supper before going to a concert last night. Had all the ingredients so I made this recipe. Both of us determined the recipe was a keeper. Served it with a salad. The pancakes were great as well as healthy. In future I think I will cut down on the garlic in the sauce and maybe add a very small bit of sugar to it. Or perhaps serve with maple syrup instead of the sauce. It was quick, affordable, and tasty.
Rating: