All Recipes
|
Breakfast
|
Lunch & Light Dishes
|
Dinner
|
Treats
|
Key Recipes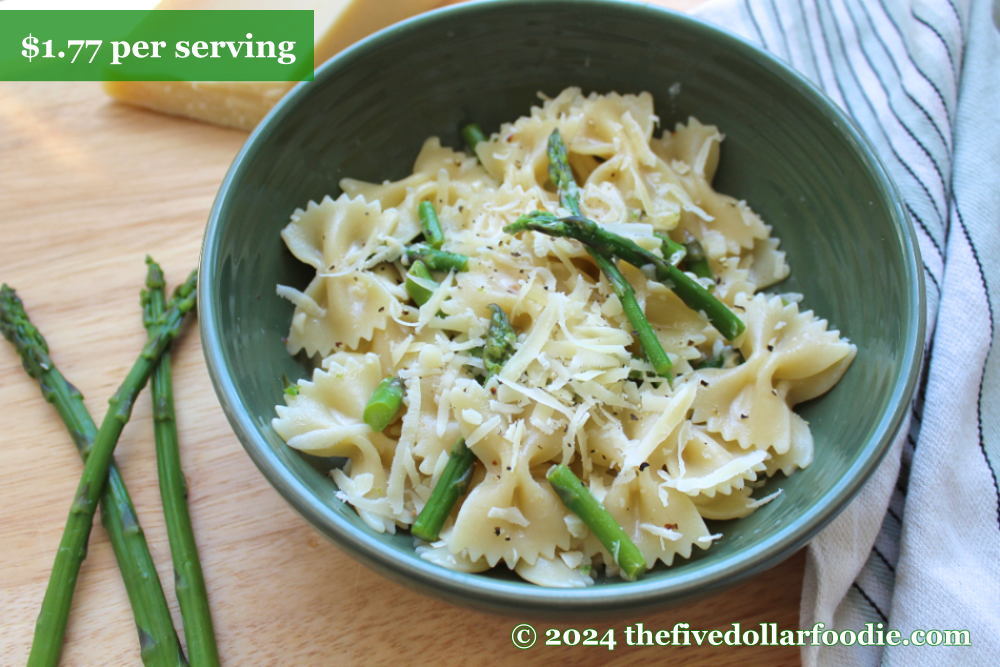 The day that all the beautiful dark green asparagus hits the market, it is spring. On Sunday, a day for pasta, this recipe draws us into a reverie of a warm afternoon in May in the Italian part of southern Switzerland, near Lake Lugano. A blackboard outside a stately-looking restaurant on the town square announces the featured dish, bowtie pasta with fresh asparagus in a cream sauce. Quintessential springtime!
Makes 4 Servings - $1.77 per serving Show Detailed Pricing
1/2 pound asparagus
1 pinch salt and pepper, to taste
8 ounces penne pasta bowtie pasta
1/4 cup olive oil
2 cloves of garlic, smashed
1/2 cup white wine, drier wine works best
1/4 cup heavy cream
4 tablespoons parmesan cheese
Prep Time: About 10 minutes
Cook Time: About 10 minutes
Instructions:
Set a wide, shallow pan of water on high heat and add a pinch of salt.
When the water comes to a boil, add the asparagus and cook 3-4 minutes or until the stalks can be pierced easily with a fork. Remove asparagus from the pan and shock under cold water to set the color. Drain and set aside.
In the same pan, bring water back to a boil and add the bowtie pasta. Cook until al dente, about 6-7 minutes.
While the pasta is cooking, set a small saucepan on medium heat with the olive oil and the garlic. Simmer for a couple of minutes and add the wine. Let the wine bubble for 3-5 minutes, to cook off the alcohol and reduce the quantity slightly. Remove pan from the heat. Add the cream and stir well until the sauce is a uniform texture.
Cut 2 inches off the tips of the asparagus stalks and add them to the cream sauce. Slice the remaining stalks into 1/2 inch pieces and add them to the sauce as well.
When the pasta is cooked, drain and return to the pasta pan. Pour the sauce over the pasta and turn the heat to low, simmering briefly to thicken the sauce. Stir in the parmesan cheese, then season to taste with salt and pepper.
To serve, spoon the bowties and sauce into each dish, allowing a few tips and some of the cut stalks onto each serving.
---
Review our Asparagus with Bowtie Pasta:
Thanks for your reviewing this recipe! We are looking over your comments and will post as many as possible.
---
L E. on 6/25/2019
This was really tasty! I was worried it might turn out too simple, but the flavors were so good and the asparagus really shines. We used leftover Sauvignon Blanc that had been open for a while which was perfect. I did add a bit more Parmesan cheese, and let the dish sit (covered) after it was done cooking for about 15 minutes which helped to thicken up the sauce a bit. But the sauce really isn't heavy or alfredo-like, it's a thin, light sauce so don't expect something it's not! We will make it again for sure.
Rating:
Susana B. on 6/4/2019
This recipe looked seasonal and easy but it proved to be challenging. The major problem was the ingredient White Wine. You should specify what kind of white wine will give the sauce the right flavor. I grabbed Sauvignon Blanc and the result was marginal...hence the rating of 3. Also the instructions were not clear on thickening the sauce. I hope you will revise the recipe because I would like to make it successfully.
Rating: