All Recipes
|
Breakfast
|
Lunch & Light Dishes
|
Dinner
|
Treats
|
Key Recipes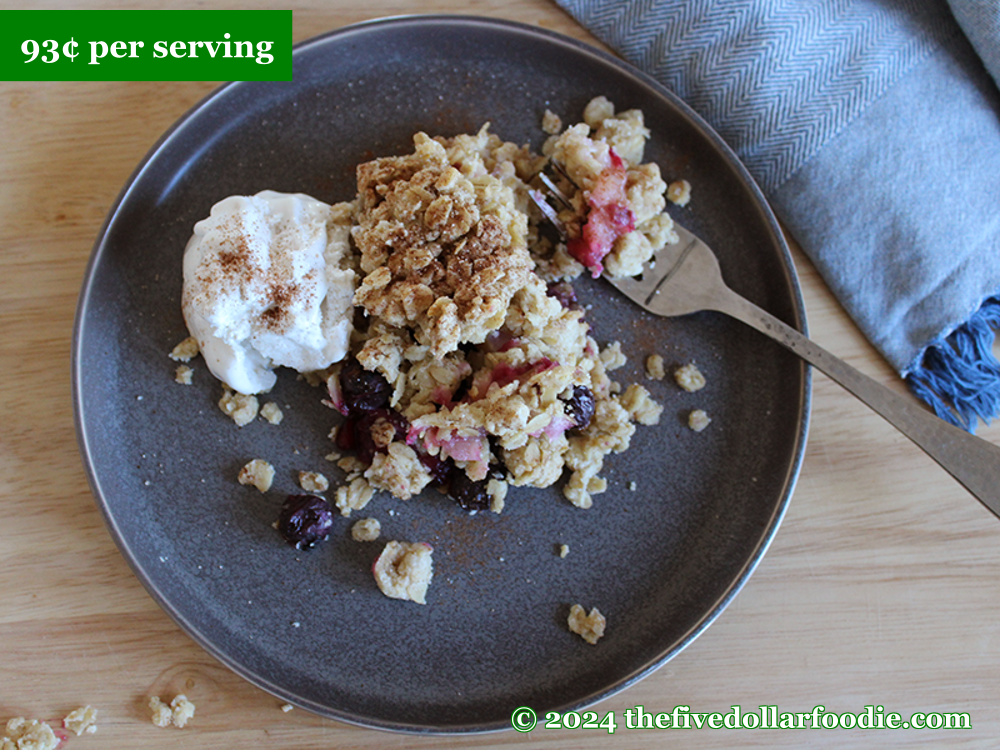 Tart apples and colorful berries, cinnamon-scented and topped with hearty and healthful oats—it's the best breakfast imaginable in cool weather. We crave it often. It's so easy to make variations on this family favorite, too, depending what's in season or on sale: apples, pears, peaches, plums, cherries, any type of berries, and even pomegranate seeds can be used. A fruit crisp also makes a wonderful dessert—just top it with a scoop of vanilla ice cream or whipped cream!
Makes 8 Servings - 93¢ per serving Show Detailed Pricing
For the filling:
6 apples, peeled, cored, and sliced thinly (about 6 cups)
1 cup blueberries, blackberries, or raspberries
* 1/2 lemon, juiced
For the topping:
1 cup flour
1 cup whole rolled oats
1/3 cup brown sugar
1 teaspoon cinnamon
1/2 teaspoon nutmeg
1 pinch salt
1/2 cup oil (canola or other light flavored oil)
*Optional ingredients are not counted towards pricing
Prep Time: About 15 minutes
Cook Time: About 40 minutes
Instructions:
Preheat the oven to 375º. If you are using frozen berries, be sure they are defrosted and well drained.
Add the apples and berries to a 11 x 7" or 9" square baking pan. Sprinkle with the lemon juice and stir.
In a separate bowl, prepare the topping: combine the flour, oats, brown sugar, cinnamon, nutmeg, and a pinch of salt and stir; then add the oil and mix well.
Spread the topping evenly over the apples and berries and bake about 40 minutes or until apples are soft and fully cooked and the topping is a light golden brown. (Softer and riper fruits will cook more quickly.)
Remove from the oven let it cool a few minutes. Serve the fruit crisp warm. So good!
Notes:
Granny Smith apples are best for this recipe, but any variety you have on hand will do. If you are in a hurry, you can leave the skin on the apples and it will still be delicious.
Brown sugar or white sugar works equally well for the topping. Brown sugar will give it a darker, more caramelized texture and taste. We go light on the sugar since that's what our taste buds prefer, but you can always sprinkle with additional sugar if you prefer a sweeter crisp (or if you plan on making a dessert out of it).
The crisp can be refrigerated and enjoyed for several days afterward. Just store it in an airtight container and reheat in the microwave or toaster oven for a few minutes.
---
Review our Apple Berry Crisp:
Thanks for your reviewing this recipe! We are looking over your comments and will post as many as possible.
---
Michael G. on 3/2/2019
OK Now - this is a treat! Very simple to make and full of fresh fruit flavor...I used Gala apples and frozen blue berries, I didn't drain the berries as I wanted the extra juices, and the Gala apples were a fine choice. Don't forget to add the lemon; a nice touch. I substituted unsalted butter in place of the oil, as I prefer the butter taste. Can't wait for this to become a leftover...and now it is my go to desert.
Rating: