All Recipes
|
Breakfast
|
Lunch & Light Dishes
|
Dinner
|
Treats
|
Key Recipes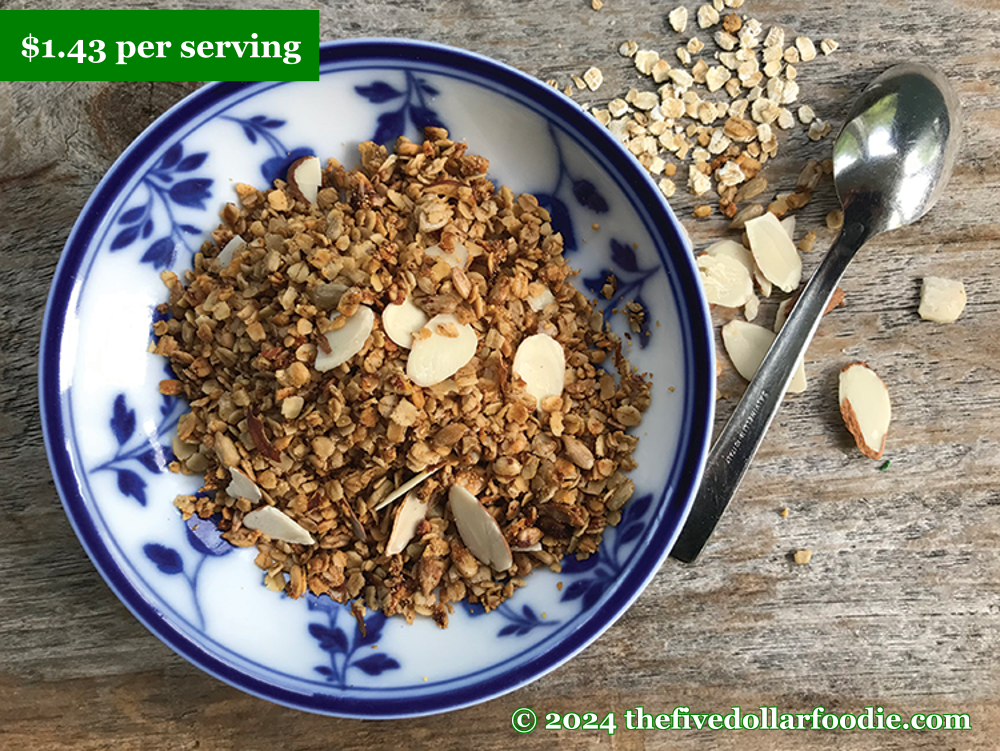 Granola usually costs a mini-fortune. We can't figure out why since it's made of pretty basic ingredients. Plus, commercial granola often is loaded with sugar... too sweet for our delicate foodie palates! Try this healthful homemade version instead. It's simple to put together and really economical, especially if you buy the ingredients in bulk. Almonds are costly, so we use just a handful and add flavor with vanilla and almond extracts, and with a hint of cinnamon, our tastebuds absolutely go nuts. This recipe is a suggestion, and you can combine pretty much any nuts or seeds (cheaper alternatives) and dried fruit that you fancy. Maple syrup helps the granola clump slightly, but honey is also tasty. Substitute vegetable oil for the coconut oil if you don't have any. A large batch made ahead gives you a quick breakfast, and the granola can be stored for several weeks in an airtight container. It's perfect with yogurt, milk, chia seed pudding, or by the handful for a snack. We've also been known to package up small batches of our granola in mason jars, tie them up with ribbon and voila! A nice gift.
Makes 9 Servings - $1.43 per serving Show Detailed Pricing
3 cups whole rolled oats
1/2 cup flaxseed meal
1/2 cup sunflower seeds (or pumpkin seeds)
1/3 cup almonds, chopped
1/2 cup dried sweetened cranberries
1 1/2 teaspoons cinnamon
1/4 teaspoon salt
2 teaspoons almond extract
2 teaspoons vanilla extract
1/2 cup coconut oil (melted)
1/3 cup maple syrup (or honey)
1/4 cup water
Prep Time: About 10 minutes
Cook Time: About 60 minutes
Instructions:
Preheat the oven to 275 degrees.
With a fork, combine rolled oats, flaxseed meal, sunflower seeds, almonds, cranberries, cinnamon, and salt in a mixing bowl, then add almond and vanilla extracts, coconut oil, and maple syrup or honey, and stir. As needed add up to ¼ cup water to help blend the mixture.
Spread the granola evenly on a baking sheet lined with parchment paper (for easier cleanup), and bake for about an hour, gently stirring once about halfway through. To help the granola form clusters, use a spatula to press clumps together after stirring.
Remove granola from the oven when it is just barely golden brown, as it will continue cooking even after removed from the oven. Baking times vary depending on the oven. Let the granola cool completely before transferring to a container.
Notes:
For gluten-free granola, be sure that your oats are gluten-free, as not all are.
Related Recipes:
---
Review our Almond-Vanilla Granola:
Thanks for your reviewing this recipe! We are looking over your comments and will post as many as possible.
---
Sharon K. on 3/16/2018
The New York Times recently had an Op-ed about cutting down on sugar noting that breakfast was one of the worst culprits. Then they proceeded to forward you to more healthy breakfasts including granolas. Sadly all were higher in fat and sugar than this great recipe. Husband loves it. Weaning him off his favorite overly sugared granola. Easy to make to boot.
Rating:
Linda H. on 1/22/2018
Granola: not just the healthiest way, but also the happiest way, to start every day. Maple syrup is a nice twist in this recipe, evoking a cozy breakfast in a farmhouse inn in Vermont. A few changes I make - cut the oil to 1/4 cup which is plenty, skip the dried cranberries which usually have preservatives, and make absolutely sure you use natural vanilla and not the artificial one that's cheaper. If real vanilla blows the top off the foodie budget, then skip the vanilla. And maybe throw in a handful of dried shredded unsweetened coconut. You'll get so addicted to this granola that you'll do what we do, which is insane I know - we take it on vacation with us for every breakfast!
Rating:
Amy Y. on 1/20/2018
I have never made my own granola, so I was excited to try this recipe! Since I love cinnamon and cranberries, I increased those ingredients. I also added a Moroccan spice that I use on a lot of different types of food (eggs, salad, meat, fish, etc.). I ended up with a sweet and savory granola I've been eating for breakfast and taking on hikes! For my next batch, I'd like to experiment with my lavender honey!
Rating: