All Recipes
|
Breakfast
|
Lunch & Light Dishes
|
Dinner
|
Treats
|
Key Recipes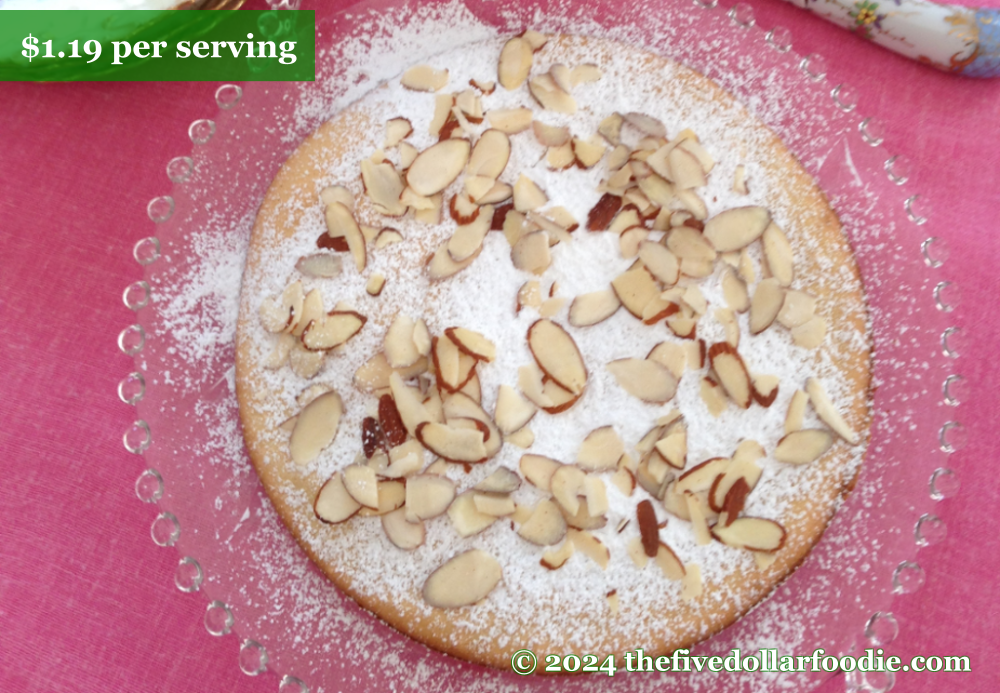 Inspired by artist Claude Monet's favorite confection, this cake is subtle in taste, redolent of almond, and a dash of liqueur adds a complementary note. No need to say more—except that if you've eaten healthy and saved all week by cooking with us Five Dollar Foodies, here's a treat.
Makes 10 Servings - $1.19 per serving Show Detailed Pricing
1 cup confectioner's sugar
1/2 cup butter, softened (plus extra for the pan)
5 eggs
2 tablespoons kirsch, or another liqueur such as Triple Sec
2 1/4 cups almond flour (almond meal)
2/3 cup flour
Optional garnishes
* 1/4 cup confectioner's sugar, sifted
* 1/3 cup sliced almonds, lightly toasted
* 8 ounces whipped cream or crème fraîche
*Optional ingredients are not counted towards pricing
Prep Time: About 30 minutes
Cook Time: About 40 minutes
Instructions:
Preheat the oven to 350 degrees. Butter a pie plate or shallow 8-inch cake pan.
Cream together in a medium-size mixing bowl the sugar and butter, beating until smoothly textured and fluffed.
Crack eggs into a separate bowl (taking care that no shell falls into the eggs) and beat them slowly into the butter-sugar mixture along with the liqueur.  Add the almond flour gradually and mix thoroughly. Next add the all-purpose flour, mixing until well combined.
Pour the batter into the pan and bake in the bottom third of the oven for 30-40 minutes or until light golden in color.
Allow cake to cool before garnishing with the sifted confectioner's sugar and sliced almonds. With a sharp knife, cut the cake into 10 wedges and add a dab of crème fraiche or whipped cream alongside each serving.
Notes:
Kirsch is flavored with cherry; other possibilities are Triple Sec, which is orange-flavored, or brandy.
---
Thanks for your reviewing this recipe! We are looking over your comments and will post as many as possible.
---
Linda M. on 8/15/2019
I baked the Almond Cake today as dessert for a meal I cooked for my son and daughter-in-law. It was really easy and they both enjoyed it. I followed the recipe exactly. I would recommend this recipe to others. I did find I was wishing for a stronger almond flavor, and maybe next time I will try a splash ofAmaretto liqueur to enhance the almond flavor instead of using Triple Sec. My d-i-l said why not use both, but I would not want to compromise the integrity of the cake which was awesome.
Rating:
Michael G. on 2/5/2018
This was a terrific Almond Cake! Very easy to make and very easy to eat. I left out the Kirsch...only because I didn't have any - this time. Very quick to do using a stand mixer, this made the process simple. Baking time for my oven was 40 minutes and a lovely smell in the kitchen, which ends with a wonderful dessert...adding the slivered almonds and powdered sugar after the cake had cooled completed this perfectly! A go-to cake for any occasion...or just a sit down with a pot of tea in late afternoon.
Rating: