All Recipes
|
Breakfast
|
Lunch & Light Dishes
|
Dinner
|
Treats
|
Key Recipes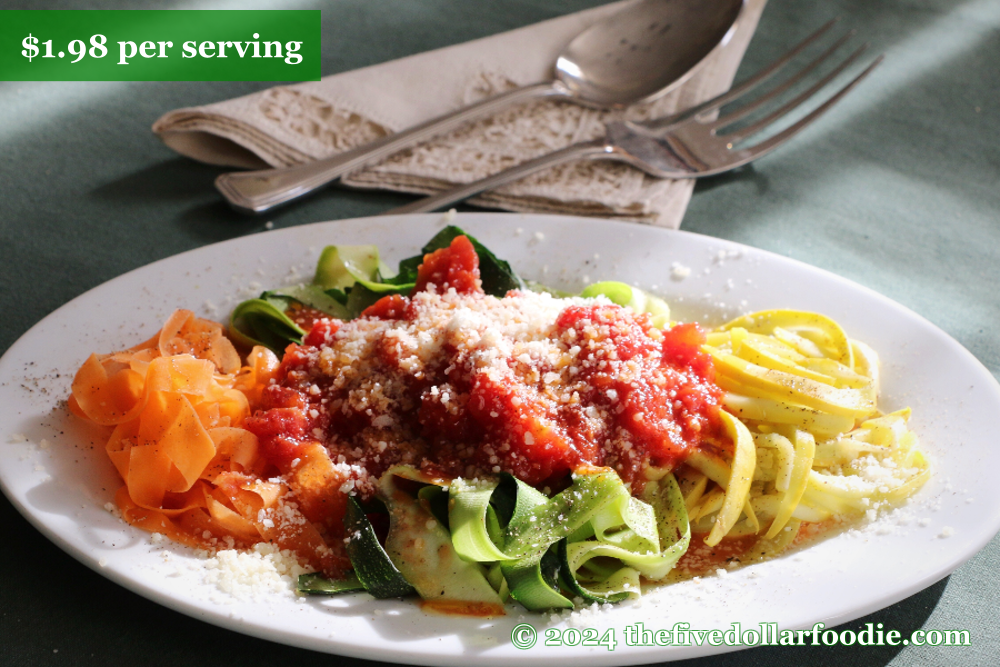 Here's a satisfying way to meet your quota of veggies. Marinara is the most versatile of all tomato sauces—a topping for pizza, a sauce for meat or pasta, and here a sauce for green, yellow and orange vegetables. The fettucine-like shapes can be made with an ordinary vegetable peeler, and zucchini lends itself especially well to this. If you have a spiral vegetable slicer (we love ours!), you can easily create pretty convincing "spaghetti." Going for varied color and texture, we also use yellow summer squash and carrots. With a generous topping of marinara and a dusting of parmesan, the result is wonderful. To make your own marinara, check out our easy, genuine Italian method: Classic Marinara Sauce
Makes 4 Servings - $1.98 per serving Show Detailed Pricing
3 carrots (large), peeled
2 zucchini, medium sized
2 yellow summer squash, medium sized
2 cups marinara sauce
* 2 pinches red pepper flakes, or to taste
2 tablespoons olive oil
8 tablespoons parmesan cheese
*Optional ingredients are not counted towards pricing
Prep Time: About 10 minutes
Cook Time: About 20 minutes
Instructions:
With a vegetable peeler scrape the length of the carrots, making wide, long "fettucine noodles." Repeat until all but the thin inner cores remain (nibble them while you cook or reserve for another use, like salad or soup). Repeat the process with the zucchini and summer squash. For the summer squash, we amused ourselves by cutting it with a knife to look like spaghetti--a spiral vegetable slicer makes this even easier.
Place the marinara in a pan on low heat to gently simmer. Fill a large pot fitted with a basket steamer (if you have one) with about 3-4 inches of water and set over high heat to boil. Once the water boils, add the carrot \"noodles\" and cover. After 3 minutes of steaming, add the zucchini and summer squash. If you do not have a steamer, just add the vegetables to the boiling water in the same order. Steam covered on medium-high heat until they are all tender, about 1 more minute. Remove from heat and strain well.
Season the vegetable noodles with salt and pepper, optional red pepper flakes, and olive oil.
Divide the vegetables evenly among 4 pasta bowls and spoon marinara on top of each serving. Give a good dusting of parmesan to each and mangia!
Notes:
Parmesan, pecorino, romano, or a blend can be used.
You can combine the vegetable noodles with pasta noodles if you prefer. Set the pasta (spaghetti, linguine, or fettuccine work best) to boil according to package directions. Toss the uncooked carrot in with the pasta for the last 3-4 minutes of cooking, then the zucchini and squash for the last 1 minute, and strain.
---
Review our Zucchini and Carrot "Pasta" with Marinara:
Thanks for your reviewing this recipe! We are looking over your comments and will post as many as possible.
---