All Recipes
|
Breakfast
|
Lunch & Light Dishes
|
Dinner
|
Treats
|
Key Recipes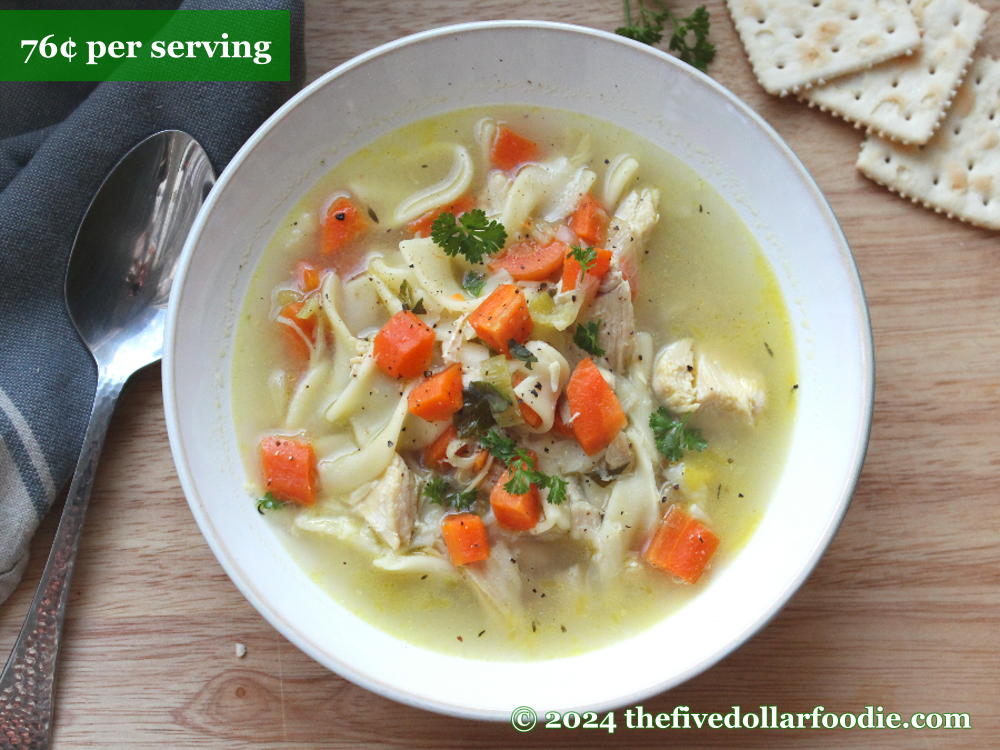 What to do with leftover Thanksgiving turkey? Don't throw away those bones... use them to make soup! Turkey soup is so delicious and easy to prepare. It's the perfect way to maximize your leftovers after the holiday and makes for one comforting supper. Turkey bones provide a rich, nutritious broth that you can use right away for soup or freeze for another day. Just add turkey meat, pieces of chicken or other protein if you don't have any turkey left. You can even add vegetables and noodles to the soup, skipping meat. The broth requires just 25 minutes of active cooking time and simmers for a few hours to allow flavors to develop and the stock to reduce. Don't feel like cooking right after Thanksgiving? Save turkey bones in a large plastic bag or other airtight container and freeze for up to several months.
Makes 10 Servings - 76¢ per serving Show Detailed Pricing
For the broth:
1 leftover turkey bones
2 stalks of celery, chopped
1 carrot, chopped
1 onion, chopped
1 teaspoon oregano
1 teaspoon thyme
2 bay leaves
1 teaspoon salt, to taste
For the soup:
2 tablespoons olive oil
1 onion, chopped
2 carrots, chopped
2 stalks of celery, chopped
* 1 cup mushrooms, chopped
3 garlic cloves, minced
1 pound turkey meat, cut into bite-size pieces
4 ounces egg noodles or other pasta
1 teaspoon thyme
1 teaspoon herbs de provence (or thyme, sage, marjoram)
2 pinches black pepper, to taste
2 tablespoons fresh parsley, minced
*Optional ingredients are not counted towards pricing
Prep Time: About 15 minutes
Cook Time: About 120 minutes
Instructions:
Place the turkey bones and all of the other broth ingredients in a large soup pot. Add enough water to cover the bones, about 12 cups. It's ok if the turkey bones aren't entirely covered—as they cook they will reduce.
Bring to a boil, lower heat and simmer uncovered (with the liquid just barely bubbling) for about 2 hours, or until the broth has reduced by about a third. You should end up with about 2 quarts of broth, depending on how long you let it simmer for. The longer the simmer, the richer the broth.
Strain the broth, discarding the bones and vegetables, and you're ready to make soup.
Heat the olive oil in a large soup pot over medium heat until it shimmers. Add the onion, carrot, celery, and optional mushrooms and saute 2 minutes or until it's slightly softened. Add the garlic and saute one more minute.
Then add the broth, the cooked leftover turkey (or chicken), pasta noodles, thyme, herbs de Provence, fresh black pepper, and bring to a boil.
Reduce heat to a simmer and cover. Cook about 8-10 minutes or until the vegetables and pasta are tender. Add a bit more water if needed.
To serve, ladle soup into bowls and garnish with the fresh parsley and black pepper, freshly ground if you have it.
Notes:
We listed turkey bones and turkey in the soup ingredients, which are essentially free if you're using leftovers from a previous meal, but our cost calculator added in cost for the meat.
You can allow the broth to cool slightly and then skim the fat from the surface after step 3 if you like. If you leave the fat in, it makes for a richer broth.
Save any remaining soup in an airtight container in the fridge, or freeze for later.
We use herbs de Provence, which is a blend of thyme, sage, savory, basil, marjoram, rosemary, and sometimes lavender. You can substitute any of those herbs, or a combination, depending on what you have available.
---
Review our Turkey Noodle Soup:
Thanks for your reviewing this recipe! We are looking over your comments and will post as many as possible.
---