All Recipes
|
Breakfast
|
Lunch & Light Dishes
|
Dinner
|
Treats
|
Key Recipes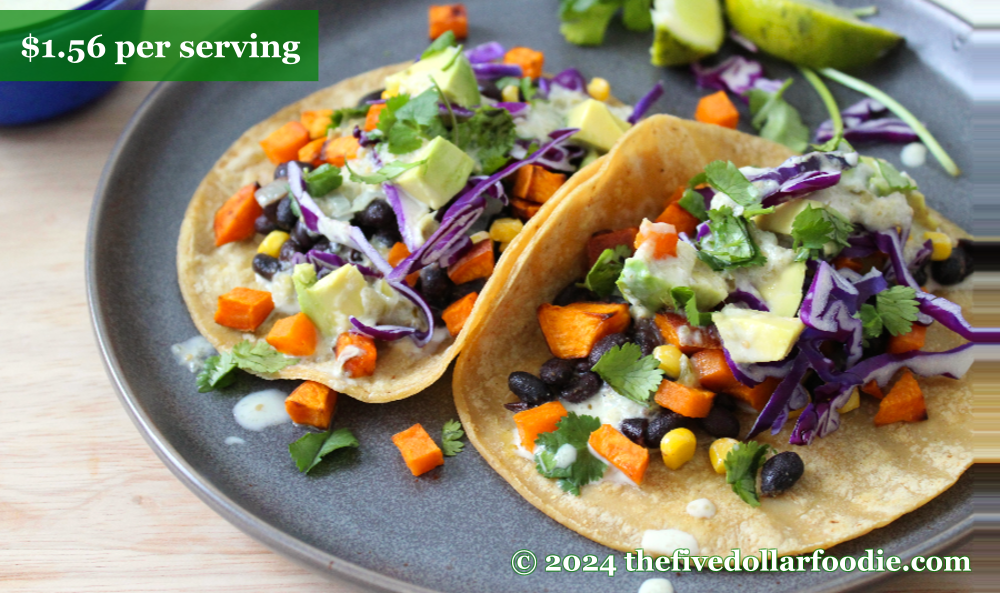 Tacos are always a welcome economical dinner, and can be made countless ways. We love this flavorful version with lots of colorful vegetables, hearty black beans, and sweet corn, and it's full of protein, vitamins, minerals, and fiber. The incredibly easy, creamy sauce gives this dish zip and the tang of green salsa especially enhances the flavors (we really like Herdez Salsa Verde—it's authentic-tasting and the price is right). At only $1.01 per serving of two tacos (that's only 50¢ per taco!), you can enjoy knowing you've got a delicious bargain on your plate.
Makes 5 Servings - $1.56 per serving Show Detailed Pricing
1 sweet potato large, cut into small cubes
4 tablespoons oil (a mildly flavored one like canola or safflower)
1 cup corn (fresh or frozen)
1 onion, chopped
1 clove of garlic, peeled and minced
15 ounces canned black beans, drained
1/2 teaspoon cumin
1/2 teaspoon chili powder (to taste)
salt and pepper, to taste
10 corn tortillas
1/8 head of cabbage, shredded (about 2 cups), or shredded lettuce
1 avocado, diced
1/2 cup fresh cilantro, chopped
2 limes, cut into sections
For the sauce:
1/2 cup salsa verde (green salsa)
1 tablespoon mayonnaise (for the vegan version, use Vegenaise or similar mayo substitute)
Prep Time: About 10 minutes
Cook Time: About 30 minutes
Instructions:
Preheat the oven to 400 degrees. Place the cubed sweet potato on a large baking sheet and drizzle with 11/2 tablespoons of the oil, stirring to coat evenly. Season with salt and pepper, and roast in the oven for about 30 minutes, or until the edges start to brown. Halfway through roasting, stir the potatoes, and you can add frozen corn at this point. For fresh corn, steam it in a pot with half a cup of water for about 2 minutes, drain, slice kernels off the cob and set them aside. When the potatoes are finished, lower oven heat to 200 degrees.
Place another 11/2 tablespoons of oil in a medium saucepan or frying pan and set it over medium heat. Once it shimmers, add the onion and sauté for about 5 minutes, or until the onion starts to soften. Add the garlic and sauté another minute. Then add the black beans, cumin, chili powder, and salt and pepper to taste. Reduce heat to low and cover the pan. Simmer for about 5-10 minutes until the beans are hot through. You can keep the beans covered over very low heat, stirring occasionally to prevent sticking, until the the tacos are ready to assemble.
To warm the tortillas: wrap them in aluminum foil and place them in the 200-degree oven as soon as the sweet potato is finished cooking.
To prepare the creamy salsa verde: In a small bowl, combine the salsa and mayonnaise and stir to blend.
Place a spoonful of the black beans with onion, along with some sweet potato, corn, shredded cabbage (or lettuce), avocado, and cilantro on each taco. Drizzle with the sauce and a squeeze of fresh lime and serve.
Notes:
Peeling the sweet potato is optional; leave the peel on for extra nutrients and to save time—just make sure it is thoroughly washed.
You may want to line the baking sheet for roasting the sweet potato with parchment paper for easier cleanup.
Cabbage is the perfect crunchy complement for these tacos, if you have 1/8 of a head available or can buy a small quantity, but we don't recommend purchasing a whole head of cabbage unless you have other plans for it so as not to waste it. Instead, you can substitute iceberg or romaine lettuce.
If you have fewer to feed and have leftovers, they will keep in an airtight container in the fridge for a few days, or can be frozen. Store the cooked sweet potato/corn/black beans mixture together but keep the toppings and tortillas separate to retain their freshness.
---
Review our Sweet Potato, Black Bean, and Corn Tacos with Creamy Salsa Verde:
Thanks for your reviewing this recipe! We are looking over your comments and will post as many as possible.
---
Linda M. on 5/16/2020
Made this for a back yard supper this evening - build your own tacos while social distancing. Everyone (which was son, d-i-l, and grandchild) loved it. Everyone had their own serving spoon. I followed instructions precisely except for switching parsley for the cilantro. Will make it again.
Rating:
Diane B. on 6/4/2018
My family really liked this dish. The sweet potatoes were slightly sweet and mild and blended nicely with the beans. A vey tasty meal. We will make this many times.
Rating:
Lisa A. on 5/14/2018
This is a great recipe. Worth every minute of prep. You really came up with a wonderful combination of flavor, texture and color. So pretty and so delicious!
Rating: