All Recipes
|
Breakfast
|
Lunch & Light Dishes
|
Dinner
|
Treats
|
Key Recipes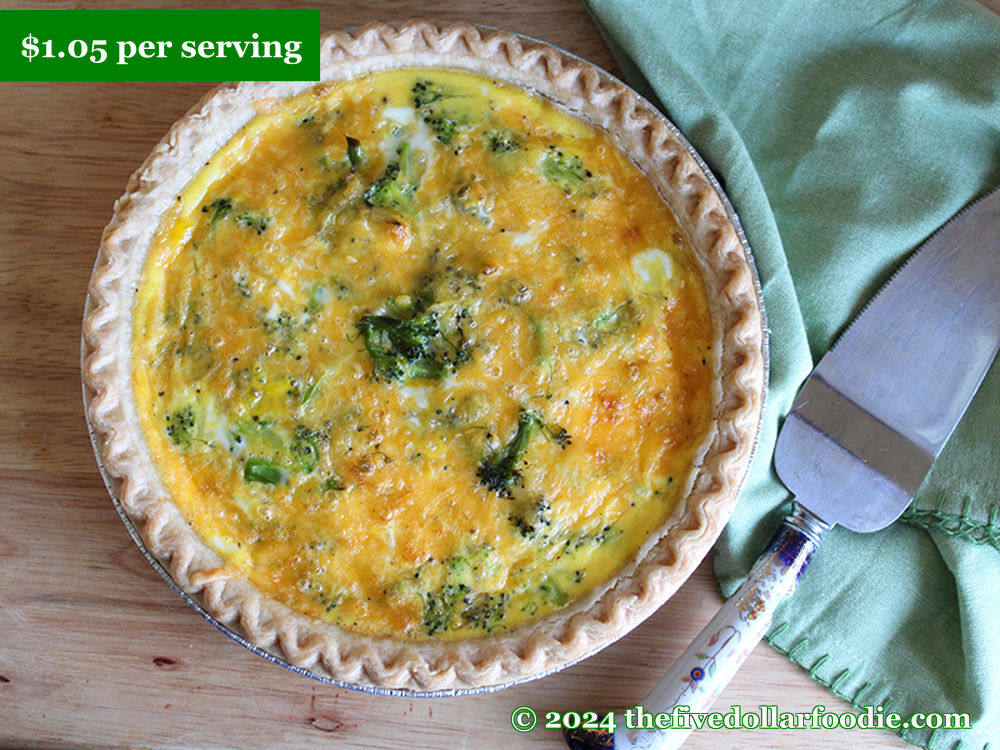 Quiche is a perfect, versatile dish that is easier to make than you might think, and is incredibly economical. It relies on just a few pantry staples, and is friendly to adaptation. Broccoli and cheddar complement each other wonderfully in this French classic. If you have onion and bell peppers, spinach, swiss or gruyere cheese, or bacon or ham, you can create your own combination. Fresh herbs are a nice garnish, such as dill or chives, or you can garnish with paprika or black pepper. Serve it warm or room-temperature for breakfast, brunch, lunch, or even dinner with a salad!
Makes 6 Servings - $1.05 per serving Show Detailed Pricing
2 cups broccoli florets
6 eggs
1/2 cup milk
1/4 teaspoon salt, to taste
1 pinch black pepper
* 1/8 teaspoon nutmeg, ground
4 ounces cheddar cheese, grated
1 prepared pie crust (9")
* 1 pinch fresh herbs (dill or chives)
* 1 pinch paprika
*Optional ingredients are not counted towards pricing
Prep Time: About 5 minutes
Cook Time: About 40 minutes
Instructions:
Preheat oven to 375º. To steam the broccoli: In a small saucepan, bring about 1/2 cup of water to a boil. Add the broccoli florets, cover, and steam 3-5 minutes, or until tender and easily pierced with a fork. Remove from heat, drain well, and set aside to cool slightly.
Whisk the eggs, milk, salt, pepper, and optional nutmeg in a large mixing bowl until well-blended. Then add the grated cheese and combine.
Place the pie crust in a pie pan on a baking sheet (to prevent spills). Add the broccoli (or other variations of your choice), and pour the egg mixture on top.
Bake about 35 minutes, or until the quiche is no longer runny in the center and the pie crust has turned a golden brown. Remove, let cool, and slice to serve. Sprinkle with a pinch of fresh herbs, black pepper, or paprika.
Notes:
Quiche will keep well in the refrigerator for several days. Cover with foil or transfer to an airtight container. You can even freeze the quiche for later: cover and store the whole pie or individual slices in the freezer, and defrost in the microwave or a warm oven.
You can make your own pie crust or purchase a prepared pie crust (from the freezer section of the grocery store). Prepared crusts save a lot of time and are usually not expensive, but see our pie crust recipe below if you're feeling inspired to make your own from scratch.
If you're using chopped onions, bell peppers, or spinach, lightly sauté the chopped vegetables in a teaspoon of oil in step 1 before preparing the quiche.
Related Recipes:
---
Review our Simple Veggie Quiche:
Thanks for your reviewing this recipe! We are looking over your comments and will post as many as possible.
---
Michael G. on 4/12/2020
Once again, a terrific quick and very tasty recipe ...I made this one without a piecrust and added Italian sausage with onion, peppers & garlic - all cooked beforehand ...
baked accordingly and a perfect Sunday night dinner, with leftovers - - - Thank you $5 Foodie!!
Rating: