All Recipes
|
Breakfast
|
Lunch & Light Dishes
|
Dinner
|
Treats
|
Key Recipes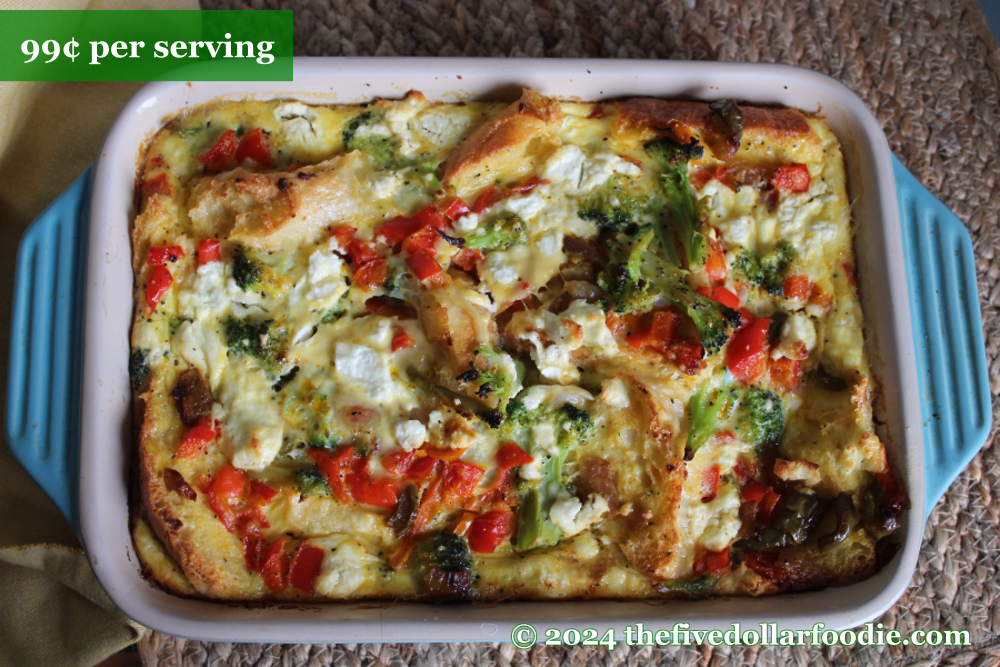 Eggs, bright red peppers, tangy feta cheese, and bread are baked together in the rich tradition of English savory puddings. The bread combined with eggs gives this hearty dish a wonderful texture. This recipe is equally delicious in a vegetarian rendition, or with lightly caramelized sausage or ham if you'd like to add meat. You can use any combination of vegetables that you have on hand—we used bell peppers, onions, and broccoli here, but also mushrooms, zucchini, asparagus work nicely. It's a great brunch dish for entertaining and family get-togethers because it can be baked ahead of time, and then warmed for serving later. Give it a try, you won't be disappointed!
Makes 6 Servings - 99¢ per serving Show Detailed Pricing
2 teaspoons butter or vegetable oil
4 slices of bread, torn into quarters
* 1 pound sausage, chopped, sautéed until caramelized
1 cup cheddar cheese or feta, grated
1 tablespoon olive oil
1/2 onion, minced
1 red bell pepper, diced
* 1/2 cup broccoli, cut into very small florets
6 eggs
2 cups milk
1/4 teaspoon salt
1 pinch nutmeg
1 pinch black pepper and red pepper, to taste
* 1 tablespoon parsley, chopped, to garnish
*Optional ingredients are not counted towards pricing
Prep Time: About 15 minutes
Cook Time: About 60 minutes
Instructions:
Heat the oven to 350 degrees. Butter or oil a deep 8x8 inch baking dish. Place bread in the dish, covering the bottom, and layer the optional ham or sausage and cheese on top.
In a small pan, sauté the onion, red bell pepper, and optional broccoli florets in olive oil until fragrant and softened, about 5 minutes. Then spread the cooked vegetables on top of the cheese.
Whisk together the eggs and milk with salt, black and red pepper, and nutmeg. Pour the mixture over the bread, meat, cheese, and vegetables.
Bake for about one hour, until the eggs have puffed and are firm and golden brown. Tent with foil if necessary to prevent too much browning.
To serve, cut into six portions and garnish with optional parsley.
Notes:
Store any leftovers in an airtight container in the fridge and warm it lightly before serving. Enjoy for a filling breakfast or lunch for several days after.
---
Review our Savory Red Pepper Bread Pudding:
Thanks for your reviewing this recipe! We are looking over your comments and will post as many as possible.
---