All Recipes
|
Breakfast
|
Lunch & Light Dishes
|
Dinner
|
Dessert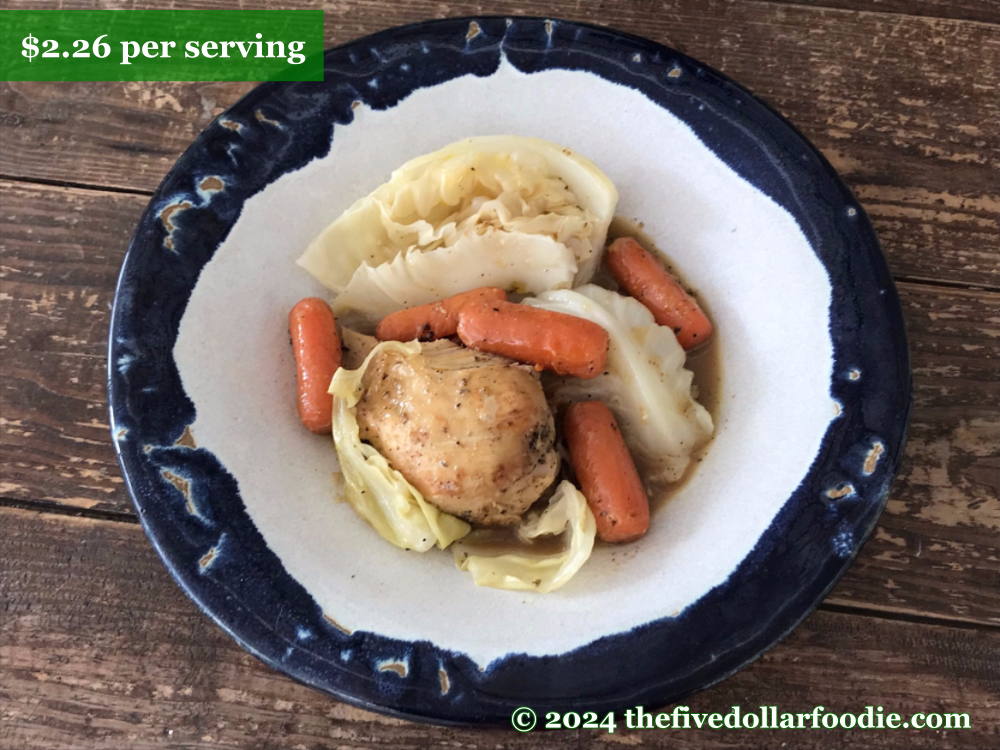 In college, a classmate of mine shared her family's recipe for this delicious, filling and inexpensive stew—perfect for a foodie student on a budget. It also seems a bit like a magic trick because you don't add any broth or water, the stew creates its own tasty broth as it cooks.
You can use inexpensive cuts of chicken, like thighs, for this recipe or a whole chicken cut into 8 pieces. If you don't know how to cut up a chicken, don't worry! You can ask a butcher to do it. Even at chain supermarkets, you can select a chicken from the self-service case, bring it to the butcher counter, and ask them to cut it into 8 pieces for you. It's a free service, so take advantage.
Whatever cut you choose, make sure it's bone-in, because the bones are what make the rich broth. This is also one of those dishes that somehow tastes even better the next day, so make a big pot of it and enjoy the leftovers.
—Megan C., Foodie Contributor
Makes 6 Servings - $1.40 per serving Show Detailed Pricing
1 whole 5-lb chicken, cut into 8 pieces
3 tablespoons Adobo Seasoning, or homemade adobo blend (3-4 tablespoons, according to your taste)
2 tablespoons oil
1 pound baby carrots
1 head of cabbage, cut into quarters
Prep time: 10 minutes
Marination time: 1-2 hours (or overnight)
Cook time: 1.5-2 hours
Wash and pat dry the chicken pieces. Cover them generously with adobo seasoning. Place them in a plastic bag or covered bowl and let marinate in the refrigerator for 1-2 hours. This step can also be done the day before and the chicken left to marinate overnight in the refrigerator for even more flavor.
Heat the oil in a big stock pot over medium heat. Brown the chicken in the pot for 2-3 minutes per side, making sure to flip each piece so all sides get browned. Take care to keep the heat at medium so that the seasoning does not burn while browning. You may need to brown the chicken in batches, removing the browned pieces to a plate.
Remove the pot from the heat. Return all of the browned chicken pieces to the pot. Place the baby carrots over the chicken, covering it entirely.
Begin peeling off a few leaves of cabbage at a time. Cover the carrots and chicken with the cabbage, continuing to peel off more leaves until you've used the whole head of cabbage.
Return the pot to the stove and turn the heat to low. Cover the pot and let cook for 1.5-2 hours. The water will release from the cabbage, mix with the adobo seasoning and chicken, and make the broth for the stew.
Spoon into bowls and enjoy!
Notes:
Ask the butcher to include the back and neck parts of the chicken if you want to make soup or stock later.
Adobo Seasoning is a blend of spices readily available in most grocery stores. If you would like to make your own adobo seasoning, stir together: 3 tablespoons (TB) salt, 3 TB garlic powder, 2 TB oregano, 1 TB turmeric, and 1 TB ground black pepper. That will give you enough to make this stew at least twice, or you can use the seasoning when cooking beans or other dishes.
---
Review our Puerto Rican Chicken and Cabbage Stew:
Thanks for your reviewing this recipe! We are looking over your comments and will post as many as possible.
---