All Recipes
|
Breakfast
|
Lunch & Light Dishes
|
Dinner
|
Treats
|
Key Recipes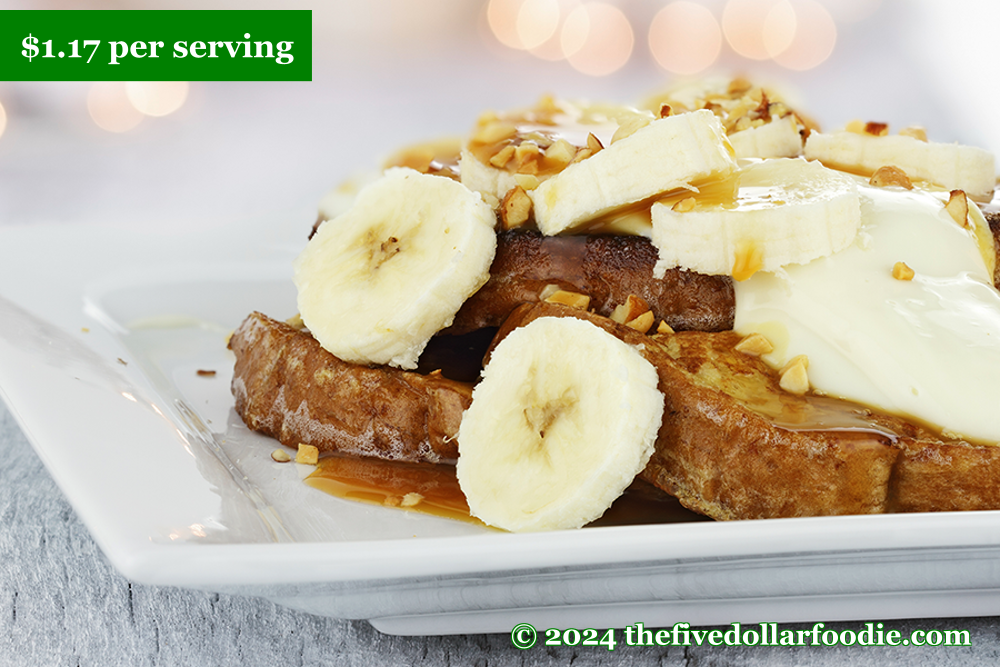 This ridiculously inexpensive breakfast is inspired by the New Orleans classic, bananas foster. French toast becomes a foodie favorite with caramelized bananas and a squeeze of fresh orange.
Makes 2 Servings - $1.17 per serving Show Detailed Pricing
2 eggs
1 pinch salt
1 pinch nutmeg
1 pinch cinnamon
1 tablespoon oil (or butter)
4 slices of bread
2 tablespoons butter
1 teaspoon sugar (or honey)
2 bananas, peeled and sliced about 1/2 inch thick
1 orange, juiced
* 2 teaspoons rum
* 1 ounce walnuts (or pecans), chopped
*Optional ingredients are not counted towards pricing
Prep Time: About 10 minutes
Cook Time: About 10 minutes
Instructions:
Break two eggs into a wide, shallow dish, add a tablespoon of water, a pinch of salt, and pinches of nutmeg and cinnamon. Beat with a fork to mix well.
Heat 1 tablespoon oil (or butter) in a medium-size frying pan until it shimmers. While the oil heats, dip four slices of bread, one at a time, into the egg mixture and turn to coat each slice. Place the bread, two slices at a time, in the pan and cook over medium-low heat until golden brown on both sides. Remove to plates.
Add 2 tablespoons butter (butter browns the bananas better than oil) to the pan, heat until it bubbles, then add the sliced bananas and a teaspoon of sugar (or honey) and cook quickly so the bananas turn light brown. If you have any rum, you can add a splash to the bananas now and cook for a minute before adding the orange juice.
Add the orange juice, cook a few moments till juice is warm, and spoon the bananas and orange sauce over the French toast. Garnish with chopped nuts if you like.
---
Review our Orange-Banana French Toast:
Thanks for your reviewing this recipe! We are looking over your comments and will post as many as possible.
---
Claryce K. on 3/6/2020
I loved it.....this is so good!!
Rating:
Nancy A. on 1/16/2018
I didn't think I could love French toast more than I already did...that is, until I tried this brilliant recipe. The orange juice is a nice and tasty touch!
Rating: