All Recipes
|
Breakfast
|
Lunch & Light Dishes
|
Dinner
|
Dessert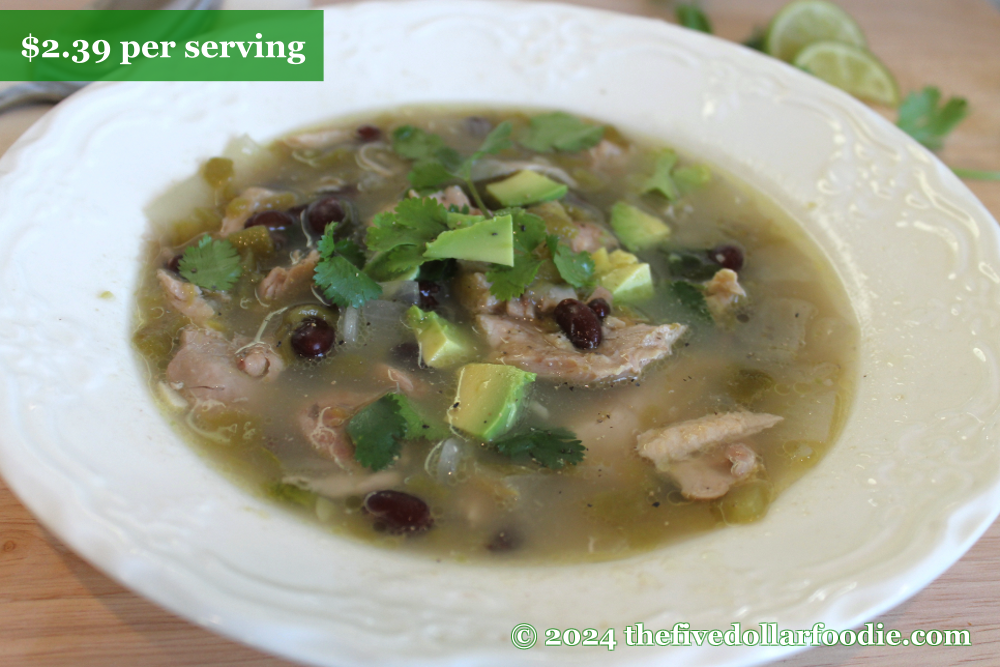 This green chile chicken stew is one of our quickest dinners to prepare. We love making this on weeknights, since it requires minimal prep and can cook—in just one pot—while you do other things. The flavors of the green chiles are complemented by onion, garlic, lime, and fresh cilantro. You can use that leftover chicken from a previous dinner (if you made our Garlic and Lemon-Roasted Chicken, for example), which brings the cost way down, or you can use chicken thighs, which are usually less expensive than breasts. The chicken cooks slowly in the broth which makes it fall-apart tender. Optional spinach adds some extra greens, and top the stew off with diced avocado, tortillas or tortilla chips, and some grated cheese (optional) for a filling and delectable meal.
Makes 4 Servings - $1.79 per serving Show Detailed Pricing
2 tablespoons oil (a mildly flavored one like canola or safflower)
1 large onion, chopped
3/4 pound boneless, skinless chicken thighs (or breasts)
2 cloves of garlic, peeled and minced
1 1/2 cups chicken broth
about 1 cup of water
2 limes, juiced
8 ounces diced green chiles
15 ounces canned black beans
* 1 cup fresh spinach, chopped
4 tablespoons fresh cilantro, chopped (plus a few additional sprigs for garnish)
salt and pepper, to taste
* Optional extras: diced avocado, tortillas (or tortilla chips), grated cheddar or jack cheese
*Optional ingredients are not counted towards pricing
Prep time: 5 minutes
Cook time: 35 minutes
In a large saucepan or pot, heat the oil over medium until it shimmers. Add the onion and cook for about 2 minutes. Then add the chicken thighs or breasts (whole) and garlic, and cook for about 4-5 minutes, flipping the chicken once, until it is very lightly browned.
Add the chicken broth and water (to achieve desired consistency), lime juice, green chiles, and black beans, and cover. Reduce heat to low and simmer about 30 minutes, until the chicken is cooked through.
Once the chicken is cooked and tender, pull it apart into bite-sized pieces using two forks (you can leave it in the pan to do so).
Stir in the spinach (optional) and cook for 1 minute more, and then add the cilantro. Add salt and pepper to taste, and remove from heat.
Spoon the stew into bowls to serve, and top with optional extras: diced avocado, tortillas or tortilla chips, grated jack or cheddar cheese, and a few extra sprigs of cilantro.


Notes:
This is a forgiving stew, so if it cooks longer it will still be delicious. If you are short on time and want to cook it a little faster at a slightly higher temperature you may do so (though the chicken becomes more tender with a longer, slower cooking). You can also make this in a crockpot, skipping step 1 and just adding all of the ingredients together at once (with the fresh cilantro and spinach added last so they retain their green color).
If you are using leftover chicken pieces, then you do not need to brown it in step 1. Just add the pre-cooked chicken (chopped into bite-sized pieces) to the stew along with the broth in step 2, and it can simmer for less time (as little as 5 minutes).
This stew freezes well. Store it in an airtight container in the freezer and reheat in a saucepan or microwave (adding fresh cilantro and avocado separately).
You can use homemade chicken broth for this recipe if you want to bring the cost down and up the flavor.
---
Review our Green Chile and Lime Chicken Stew:
Thanks for your reviewing this recipe! We are looking over your comments and will post as many as possible.
---
Jemison F. on 5/16/2018
As advertised this is really easy to make and the lime and green chile add a whole other dimension to the notion of "chicken stew". I added a cup of cooked bulgur at the end to beef it up a bit. I also added a bit more spinach.
Rating:
Linda M. on 4/18/2018
Explosion of flavor in my mouth. The flavors together were unlike any I have ever experienced. Delicious. Amazing. Easy. And, importantly, not expensive. I'd suggest you include the "optional" spinach. It adds additional texture and nutrition and makes it possible for it to be a one course meal. The chicken fell apart into soft tasty morsels as promised.
Rating:
Lisa A. on 3/17/2018
I made this last night and it was fabulous! The lime juice added a lovely brightness and the green chilis gave it flavor without too much heat. Wonderful. I added cumin and oregano to the leftovers and combined them with brown rice. Cant wait to eat this again.
Rating: