All Recipes
|
Breakfast
|
Lunch & Light Dishes
|
Dinner
|
Dessert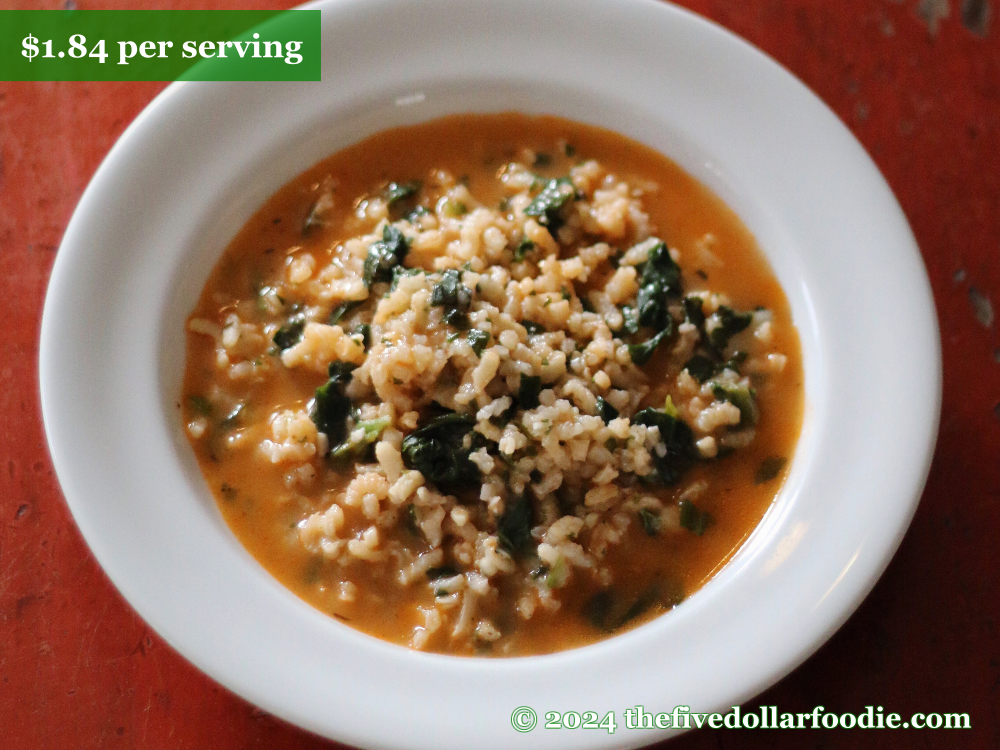 The sum here is definitely greater than the parts: a rosy broth, aromatic with garlic and a hint of nutmeg, envelopes slightly chewy arborio rice laced with dark greens. Topped with melting parmesan or romano cheese, it makes a pleasing supper. This is also a refreshing way to make a meal from leftover chicken bones. Did we say super economical and super healthful? Starting with a 5-pound roaster, we turned out Lemon-Garlic Roasted Chicken, then Chicken Corn Pie, and now a Quick Chicken Broth for this gratifying soup. Packaged chicken broth will also work for this recipe, however.
For an excellent vegetarian version, this recipe can be made successfully with vegetable broth spiked with a good squeeze of lemon.
Makes 6 Servings - $1.66 per serving Show Detailed Pricing
3 tablespoons olive oil
6 cloves of garlic, peeled
2 tablespoons tomato paste
6 cups quick chicken broth (homemade), or 4 cups packaged chicken broth + 2 cups water
3/4 cup arborio rice (or brown or white rice)
1 pound heads of escarole (or spinach), chopped
salt and pepper, to taste
3/4 cup parmesan cheese (or romano or pecorino), grated
* 2 pinches nutmeg
*Optional ingredients are not counted towards pricing
Prep time: 10 minutes
Cook time: 15 minutes (50 minutes if preparing homemade broth)
If you will be using homemade broth, begin simmering the broth according to our Quick Chicken Broth recipe. If using packaged chicken or vegetable broth, skip to step 2.
Add the oil and garlic cloves to a medium-size pot. Cook them over low heat until softened, about 2 minutes. Stir in the tomato paste and smash the garlic with the back of a cooking spoon.

Add 6 cups of homemade chicken broth (or

4 cups of packaged chicken broth + 2 cups of water)

and bring to a boil. Place rice in the pot and cook covered over medium-low heat for 7-10 minutes before adding the escarole. You want the rice to be just slightly underdone at this point. Simmer the soup, covered, for about 5 minutes more, or until the escarole is tender and the rice has given the soup creaminess. If you're using spinach, which cooks faster, just add it at the last minute.
This is a thick soup though if it seems too thick, add a little water. Check the seasoning but go easy on salt, because the cheese will add more. Last, cover the soup with the grated cheese and an optional two pinches of nutmeg. Replace the lid so the cheese softens, and in half a minute it's ready for dishing up.
Note: Prized arborio rice imparts a creamy, yet slightly chewy texture to risotto and to this soup, although brown or white long-grain rice can be substituted. Brown rice will take a lot longer to cook, so allow at least 30 additional minutes of cooking time, or else precook it according to package instructions.
---
Review our Escarole Rice Soup:
Thanks for your reviewing this recipe! We are looking over your comments and will post as many as possible.
---