All Recipes
|
Breakfast
|
Lunch & Light Dishes
|
Dinner
|
Dessert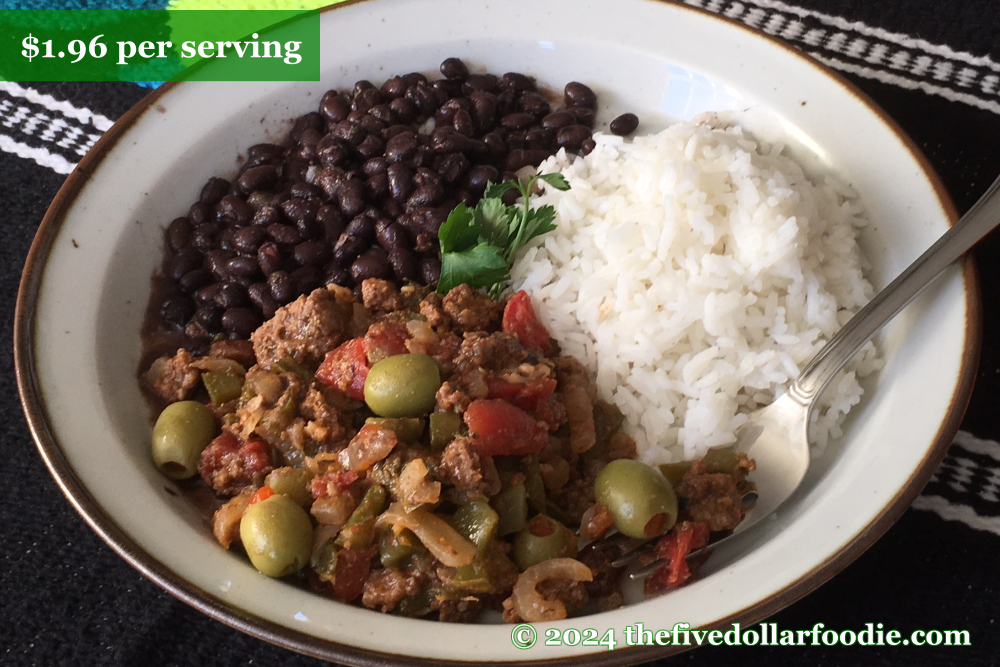 Picadillo is Cuban home cooking at its best. While it appears in many variations across Latin America, we bow to a traditional take on this gratifying recipe: beef or pork, green pepper, raisins, olives, and tomato. Typically, black beans and white rice accompany picadillo for a delightful, easily prepared, and—of course—inexpensive meal.
Makes 6 Servings - $1.47 per serving Show Detailed Pricing
3 tablespoons olive oil (or vegetable oil)
1 pound ground beef (or ground pork, or a combination)
salt and pepper, to taste
1 medium onion, chopped
1 green bell pepper (large), chopped
4 cloves of garlic, peeled and minced
1/3 cup pimento-stuffed green olives
1/3 cup raisins
15 ounces canned diced tomatoes with their juices (or tomato sauce)
3 tablespoons vinegar + 1 tablespoon sugar, stirred together
3/4 cup chicken broth (or vegetable or beef broth)
2 bay leaves
2 teaspoons oregano (dried)
2 teaspoons cumin
1/4 teaspoon cayenne powder
For the side dishes:
1 1/2 cups long-grain white rice
15 ounces black beans, mostly drained
*Optional Extras: hot sauce, cilantro
Prep time: 15 minutes
Cook time: 25 minutes
In a large skillet, heat 1 tablespoon of oil over medium heat just until it shimmers. Add the ground meat, season with a little salt and pepper, stirring and breaking up the meat with a wood spoon. Cook to brown the meat on all sides. As it begins to brown, in about 3-4 minutes, add the onion, pepper, garlic, olives and raisins, stirring often. Continue cooking to soften the onion, about 5 minutes more.
Drain off any excess fat from the pan then add the tomato, vinegar-sugar mixture, broth and bay leaves. Next add the oregano, cumin and cayenne and stir to blend well.
Adjust the heat to a slow simmer and cook, partially covered, for about 15 minutes. Taste for salt.
While the picadillo is finishing, set rice to cook according to package instructions. In another saucepan over medium heat, place the black beans and a pinch of salt and heat through, about 5 minutes.
To serve: Spoon a serving of picadillo onto each dinner plate next to a serving of rice and black beans, in equal wedge-like portions. Top with sprigs of cilantro and pass the hot sauce, if desired.
---
Review our Cuban Picadillo:
Thanks for your reviewing this recipe! We are looking over your comments and will post as many as possible.
---
Patricia N. on 3/29/2019
Sounds great, something different for us....trying it this weekend, can't wait!
Rating:
Michael G. on 5/15/2018
Ok - another terrific recipe! This one is easy and full of flavor...I did a mixture of meat: veal, pork and beef...the flavor is there...with beans and rice a wonderful blend of subtle flavors and with the hit of vinegar & sugar it put the recipe up front. Now looking forward to the leftovers.
Rating: