All Recipes
|
Breakfast
|
Lunch & Light Dishes
|
Dinner
|
Treats
|
Key Recipes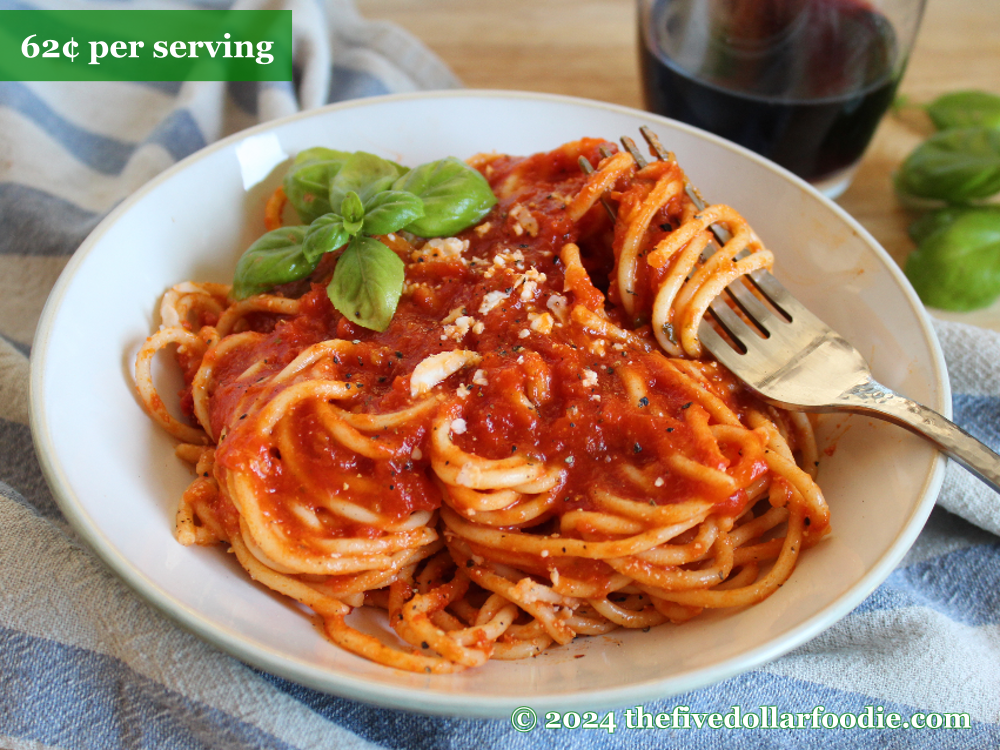 Most agree that marinara has roots in Naples and that cooks prepared this simple sauce for mariners returning to port. So it's classic in one sense, but it's also true that there are many personal and regional variations, involving onions, parsley, carrots, and chile peppers. At its simplest, and to our minds best, it centers on tomatoes, olive oil and garlic, combined in a just-so way along with a hint of basil or oregano. The trick to that special "this was made by an Italian hand" flavor is all in the technique.
Makes 8 Servings - 62¢ per serving Show Detailed Pricing
3 tablespoons olive oil
2 cloves of garlic, peeled and lighty smashed
28 ounces canned whole tomatoes, preferably Italian and unsalted
1/2 teaspoon salt
2 pinches black pepper, to taste
1 teaspoon dried basil
16 ounces spaghetti or other pasta of choice
* 1/4 cup grated parmesan cheese
* 1 pinch fresh basil
*Optional ingredients are not counted towards pricing
Prep Time: About 5 minutes
Cook Time: About 15 minutes
Instructions:
Place the oil in a large saucepan and turn the heat to medium. When the oil begins to shimmer, add the garlic cloves, turn heat to medium low, and stir for 2-3 minutes or until the cloves just begin to turn golden—take care that they don't burn!
Now slowly add a large kitchen spoonful of tomatoes and their juice to the pan and cut and crush the tomato into the oil with the spoon. Cook for a minute before adding the remaining tomatoes and juice, crushing the tomatoes gently as you go. Now add the salt and basil (or oregano) and stir.
Bring the sauce to a slow bubble and partially cover the pan. Simmer for about 15 minutes. You can further crush the garlic cloves against the side of the pan if you wish. Give a final stir and season with black pepper and salt to taste.
Cook pasta according to package instructions. Drain and serve with marinara, freshly grated parmesan, and a sprig of fresh basil (optional).
Notes:
Depending on the quality of your tomatoes (we like Muir Glen or Cento, if on sale), you may not need additional seasonings or herbs. Taste before adding basil, or oregano, to see if the flavor is to your liking.
If you prefer your garlic to have a finer texture, you can either mince it before cooking or gently pulse the cooked marinara in a blender for a few seconds (or use an immersion blender right in the pot).
This basic marinara recipe will be perfect for a variety of our other recipes. Save leftovers in an airtight container in the fridge or freeze for several months.
For a fancier presentation and special occasions add 1 cup of heavy cream to the sauce and serve with 1-2 butterfly shrimp per serving.
Related Recipes:
---
Review our Classic Marinara Sauce:
Thanks for your reviewing this recipe! We are looking over your comments and will post as many as possible.
---