All Recipes
|
Breakfast
|
Lunch & Light Dishes
|
Dinner
|
Treats
|
Key Recipes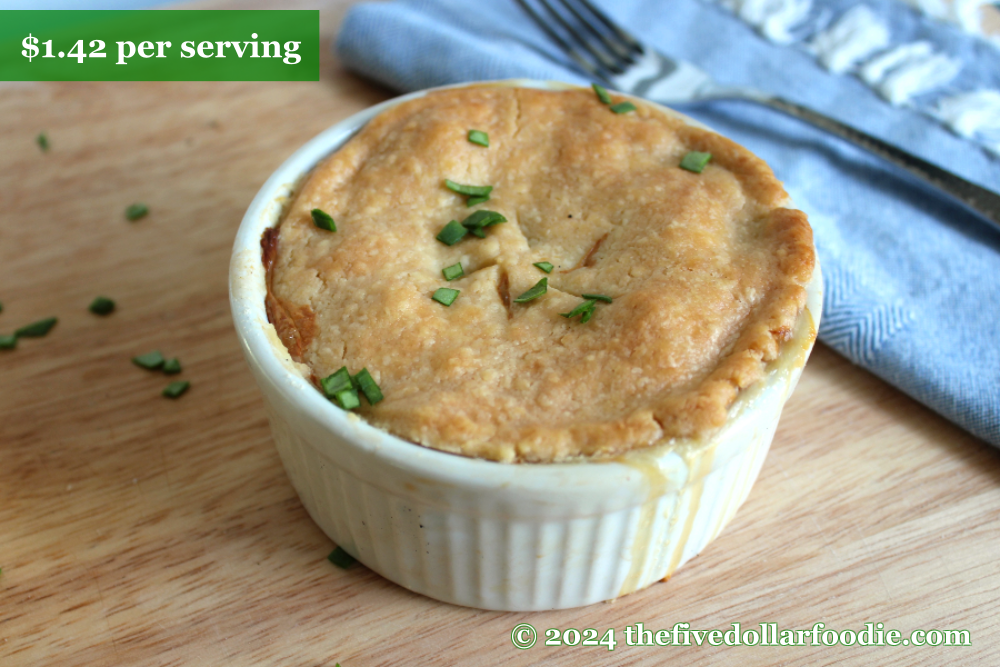 Does it get any more comforting than this? Tender shredded chicken and corn baked in a creamy, herbed sauce under a golden pastry crust. This is a great day-two use of chicken when you want to make three meals from one roaster (see our Garlic and Lemon Roasted Chicken) for another economical supper. No need to say more!If you have time to make your pastry from scratch, feel free, but now you can easily buy good prepared pie crust, which is what we often do. Also, this is the perfect dish to use up any additional vegetables that you have on hand in the refrigerator.
Makes 4 Servings - $1.42 per serving Show Detailed Pricing
1/2 pound boneless, skinless chicken thighs, drumsticks, or one whole chicken breast (or pre-cooked leftover chicken pieces)
1/2 onion, diced
3 tablespoons oil (or butter)
2 1/2 tablespoons flour
1 cup milk
1 pinch salt and pepper, to taste
3/4 teaspoon thyme, tarragon, or dill
3/4 cup corn, frozen or freshly cut off the cob (if frozen, defrosted and well-drained)
1 prepared pie crust, thawed according to package instructions (or homemade)
* 1 scallion, thinly sliced
*Optional ingredients are not counted towards pricing
Prep Time: About 15 minutes
Instructions:
Preheat oven to 425 degrees. If you're using pre-cooked chicken, remove meat from bones, cut into bite-size pieces, set aside, and skip to step 2. (Refrigerate or freeze bones along with any meat clinging to them for a third meal of chicken soup.) If you're using fresh chicken, place the chicken and about a half cup of water in a tightly-lidded saucepan or frying pan and cook for about 8-15 minutes, depending on size of the chicken pieces. Test for doneness by cutting into the thickest part. Place chicken on a plate to cool, then remove any bones, shred the meat to bite-size pieces and set aside.
In a medium-size saucepan (you can use the same pan that you cooked the chicken in), sauté diced onion in oil (or butter) until softened, about 3 minutes. Remove from heat and add flour, stirring to blend flour and oil. Slowly pour in the milk, while stirring—a whisk is helpful to break up any lumps.
Cook the white sauce over medium heat, stirring now and then until it simmers, and scraping the bottom of the pan to prevent sticking. Continue cooking and stirring a few more minutes until the sauce has thickened enough to coat a spoon. Remove from heat and stir in the seasonings: about 1/4 teaspoon of salt (or more to taste), along with the pepper and thyme, tarragon, or dill.
Place the chicken and corn in the white sauce, stir, and taste again for seasoning. Pour the creamed chicken and corn into a small baking dish. An 8- to 10-inch cast iron skillet is perfect for this. Turn the pie crust upside down out of its foil plate onto the creamed chicken and pierce the crust a few times with a fork to allow steam to escape while baking. Sprinkle salt and pepper over the crust—coarsely ground salt and pepper from a mill are especially good—and press lightly.
Bake 25-30 minutes, or until the crust is golden brown and the sauce bubbles around the edges. Garnish with thyme or sliced scallion and serve right away, or relax first with a glass of wine and admire your handiwork. The cast-iron pan will keep it warm for you!
Notes:
You can replace the milk with broth or use half broth, half milk in the sauce.
Some packaged pie crusts are easier to handle (less sticky) if not defrosted before you turn them out. Others will need to be completely thawed before using, so follow package instructions.
This dish is great with an assortment of vegetables you may have on hand. Instead of—or in addition to—corn, you can use broccoli or cauliflower florets, chopped celery or carrots, diced potatoes, peas, sliced mushrooms. Just add them along with the onion in step 2.
If you prefer to make individual pot pies, you can spoon smaller amounts of pot pie mixture evenly into ramekins. Place the pastry dough on a cutting board or lightly floured surface and cut into small rounds with an extra ramekin or cup of the same size. Re-form the pastry scraps into a ball and roll it out again with a rolling pin or wine bottle until all of it is used up.
Related Recipes:
---
Review our Chicken, Herb, and Sweet Corn Pie:
Thanks for your reviewing this recipe! We are looking over your comments and will post as many as possible.
---
Lisa A. on 11/14/2018
This reminds me of eating at an old farmhouse kitchen. Hearty and delicious yet simple. I have tried this with variations and it is always good.
Rating:
L E. on 8/1/2018
This is a family favorite! Love the fact that we can use leftover chicken from roasting it last night, too. I added broccoli, carrots, peas, and mushrooms for extra veggies. Will make many times again!
Rating: