All Recipes
|
Breakfast
|
Lunch & Light Dishes
|
Dinner
|
Dessert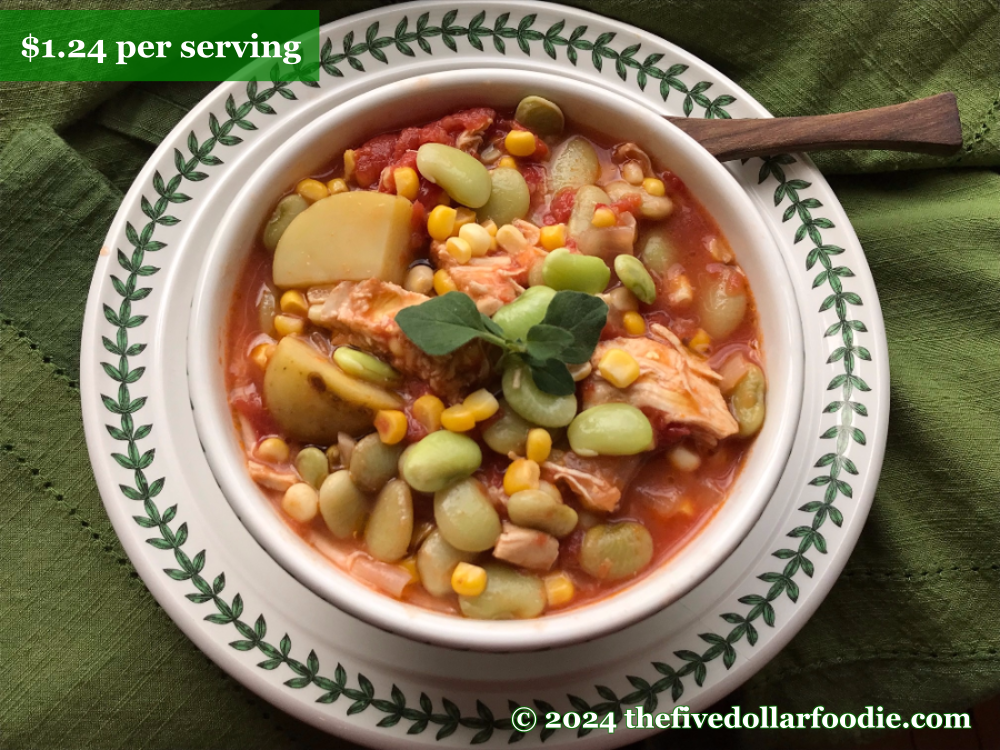 Corn, tomatoes, and lima beans simmered with chicken make for comfort food at its best. This colorful yellow, green, and tomato-red stew invites everyone to gather around and serve themselves from the pot. It works equally well with fresh or frozen vegetables.
For plain or fancy occasions, our family has made this farmhouse favorite almost forever and we bet you will, too. The vegetables shine here, enhanced by light seasoning, the tang of Worcestershire sauce, and fresh lemon, yet this is a dish that will also satisfy good appetites. So fine just off the fire, Brunswick stew is even more excellent the next day. This dish dates to pioneer days and before, as Native Americans certainly prepared a stew of corn and beans with wild game.
Makes 7 Servings - 92¢ per serving Show Detailed Pricing
2 chicken breast halves, bone in (about 1 1/4 pounds)
1 1/4 cups water
1 bay leaf
1/4 teaspoon salt
salt black pepper to taste
8 ounces lima beans (if using dried beans, cooked and drained)
8 ounces corn kernels
15 ounces canned diced tomatoes
1 medium onion, peeled and chopped
2 medium potatoes, peeled and diced (about 1/2 pound)
2 teaspoons Worcestershire sauce
2 tablespoons flour
* 1/2 lemon
* 2 tablespoons butter or olive oil
*Optional ingredients are not counted towards pricing
Prep time: 10 minutes
Cook time: 45 minutes
In a medium-size soup pot, place the chicken, 1 cup of water, bay leaf, 1/4 teaspoon of salt, and black pepper to taste. Bring to a simmer, cover, and cook about 20 minutes, until the chicken is done (opaque and no longer pink when you cut into the thickest part). While the chicken simmers, prep the vegetables and assemble the remaining ingredients.
Remove chicken from the pot, placing it on a plate to cool. Add the lima beans, corn, tomatoes and juice, onion, potatoes, and Worcestershire sauce to the pot and simmer, covered. As the vegetables cook, shred the chicken into bite-size pieces, discarding the skin and bones, and return it to the pot.
Simmer the stew, covered, until the vegetables are nicely tender, about 20 minutes more.
To thicken the sauce, stir flour into 1/4 cup of water, using a fork to blend the mixture until it's smooth. Then stir blended flour into the stew and simmer for a minute. The sauce should be thick enough to lightly coat a spoon. Squeeze lemon juice into the stew; taste and season with more salt and pepper if needed.
Notes:
Bone-in chicken produces a richer-tasting broth, though you can use boneless, skinless chicken if you prefer, or any combination of white or dark meat (chicken thighs or drumsticks also will do).
For added richness—what chefs call "mouth-feel"—stir in a couple of tablespoons of butter or olive oil during the last minute of cooking.
---
Review our Brunswick Stew:
Thanks for your reviewing this recipe! We are looking over your comments and will post as many as possible.
---
Michael G. on 11/21/2018
A terrific, easy, warm, satisfying meal...I used legs and thighs of an organic chicken, and substituted the lima beans with navy beans...the sauce wasn't too thick and came out smooth...the lemon was such a good touch - I used 1/2 of a lemon - don't leave the lemon juice out. Now I am looking forward to tomorrow night's leftovers meal.
This one is very good!
Rating:
Linda H. on 11/18/2018
Comforting food with an artisanal flair, thanks to the happy blend of farmer's market flavors kicked up with the zing of lemon. Having just returned from a rugged hiking vacation along the Bay of Fundy in New Brunswick, Canada, I grabbed my big stew/soup pot and whipped this up, to help me hold onto memories of the extravagantly wild New Brunswick cliffs, caves, and bay. Savoring the warm and yummy Brunswick stew, I reminisced about bald eagles soaring above the New Brunswick coast line, fish jumping in the Big Salmon River, waves crashing into the sea caves . . . .
Rating:
Lisa A. on 11/14/2018
This is a wonderful stew and very hearty. I have made it with both chicken and pork. It is perfect for leftover pork or chicken. We love it with cornbread!
Rating: