All Recipes
|
Breakfast
|
Lunch & Light Dishes
|
Dinner
|
Treats
|
Key Recipes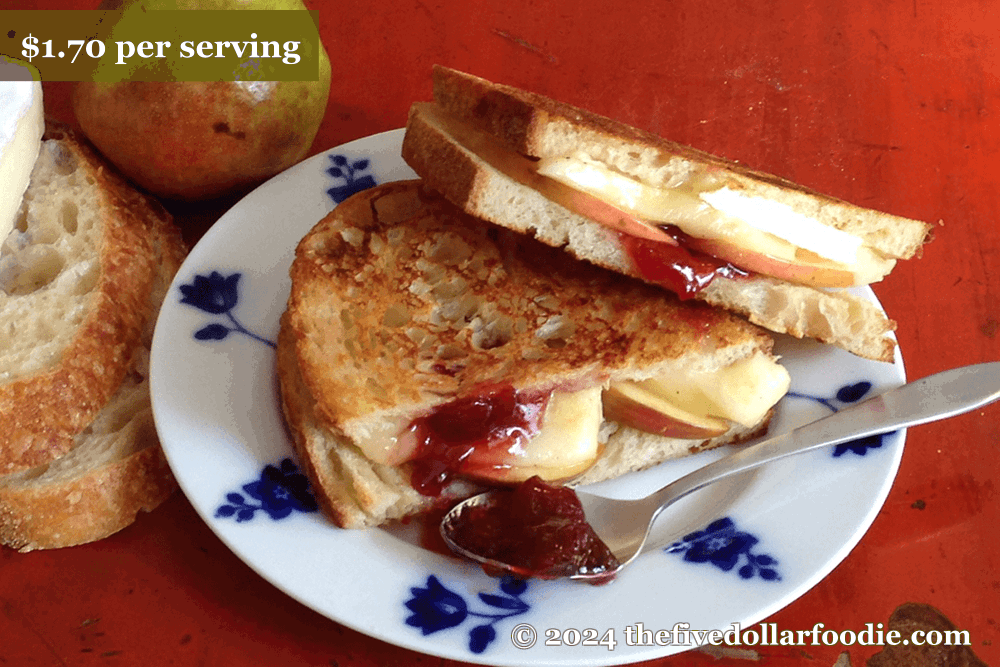 A luscious combination of creamy cheese and slightly crisp pear slices grilled in a pan makes for a marvelous lunch. The red fruit jam (strawberry or raspberry will do) adds a touch of sweetness that complements the rich notes in the brie. A fancy foodie treat for a great price!
Makes 2 Servings - $1.70 per serving Show Detailed Pricing
4 ounces brie cheese, cut into 1/4" thick slices
4 slices of bread
1 pear (firm), sliced thinly, core removed
2 teaspoons red fruit jam
2 tablespoons oil (or butter)
1 pinch salt and pepper, to taste
Prep Time: About 5 minutes
Instructions:
Place the brie, divided, on two slices of bread and layer the pear slices on top.
Spread a teaspoonful of a red-fruit jam over the pear slices and season with salt and pepper. Place two remaining slices of bread on top to close the sandwiches.
In a large frying pan, heat the oil (or butter) until it shimmers (or the butter gently bubbles), and place the sandwiches in the pan. Lower heat to medium and grill about 3-4 minutes, or until golden brown on one side. With a spatula, flip the sandwiches and grill another 2-3 minutes or until the cheese is slightly melted around the pear.
Remove from the pan and cut the panini into halves. Serve warm.
---
Review our Brie Panini with Fresh Pear and Red Fruit Jam:
Thanks for your reviewing this recipe! We are looking over your comments and will post as many as possible.
---
Ms B. on 4/7/2018
Yummy, melty, gooey, crunchy combination - fast preparation - Tastes great cooked in butter - I served it with your salad made with feta, mint, romaine, tomatoes.
Rating:
Judy E. on 2/2/2018
Tasty, super easy to make. Grilled cheese are one of my go-to lunches, so it's exciting to find a new and different take on the grilled cheese that's still cheap. Yum.
Rating:
Mandy F. on 1/23/2018
I love Brie!
Rating:
Jason H. on 1/19/2018
I would love to see more ideas like this one. Simple tricks for making a classic go to dish like a grill cheese something special...

Thanks!!!
Rating:
Daniela K. on 1/18/2018
A delicious and good looking dish! It is such a nice update to a classic grilled cheese. The entire family liked it, from toddlers to grown ups it was a big hit.
Rating:
Michael M. on 1/18/2018
Amazing recipe! Our family loved it! Amazing price for what you end up with!
Rating: