All Recipes
|
Breakfast
|
Lunch & Light Dishes
|
Dinner
|
Dessert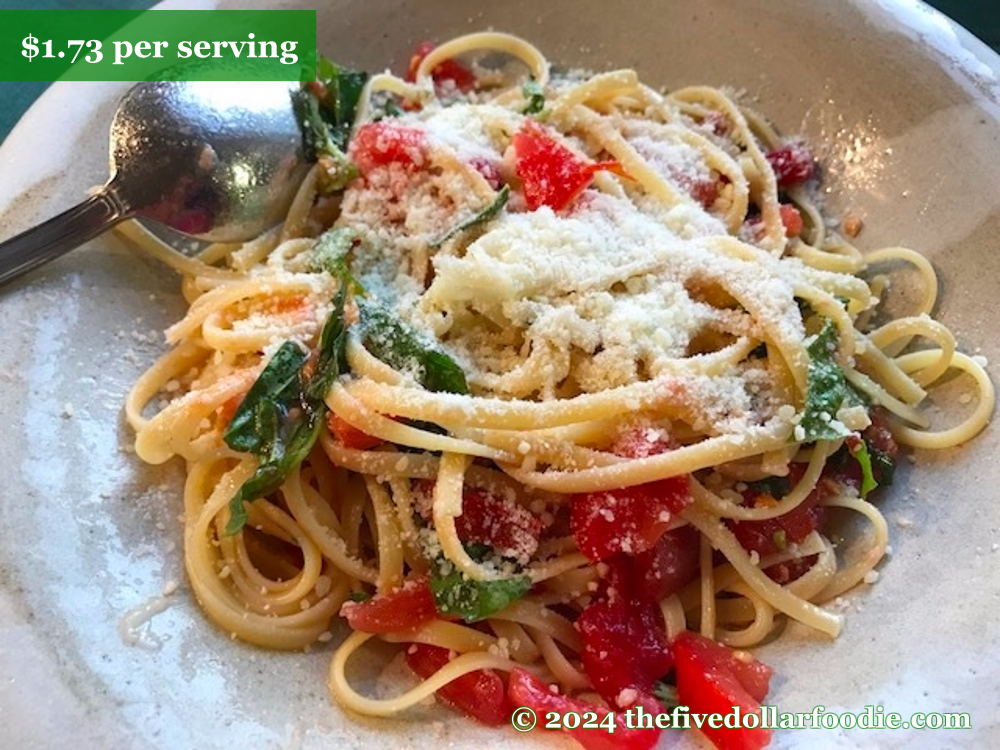 This wins the vote among the Foodie Chefs for all-time best late summer eating, and it's truly fun to make. You set it up in a few minutes—no cooking—and come back later to boil pasta, toss the sauce and pasta together with shredded cheese, and mm-mmm! The ripest tomatoes you can get your hands on go into a bowl along with fresh basil, garlic, and olive oil to marinate and meld their flavors and aromas, capturing the essence of late summer when tomatoes are at their bursting-with-flavor best.
Makes 4 Servings - $1.31 per serving Show Detailed Pricing
For the sauce:
1/4 cup olive oil
4 garlic cloves, peeled and halved lengthwise
4 medium tomatoes, fully ripe, cored and roughly diced
1/2 cup fresh basil, packed (about 16 leaves total)
1 pinch red pepper flakes
salt and pepper, to taste
1/2 pound linguini or spaghetti
4 ounces fontina or mozzarella cheese, shredded
4 tablespoons parmesan or romano cheese, grated
Prep time: 10 minutes
Cook time: 7-10 minutes
Place the oil, garlic cloves, tomatoes, basil, red pepper flakes and salt and pepper in a bowl. Cover and set aside at room temperature for 2-6 hours or so. If you're in a hurry, you can put it in full sun. You can also prepare the sauce the day before and marinate it in the refrigerator. (If you do this, be sure to bring it to room temperature before using.)
In a large pot of boiling water, add a large pinch of salt and the pasta. Cook until al dente. Meanwhile, remove all 8 pieces of garlic from the marinating tomatoes.
When the pasta is ready, drain it and immediately return it to the still-hot pot (heat turned off). Toss in the cheese, stir, and add the fresh tomato sauce. Stir again and add the parmesan or romano cheese. A last quick stir and it's ready.
Notes:
Fontina is a superb cheese for this recipe because of its creamy texture when melted. Look for it on sale and freeze the unused portion tightly wrapped.
A successful vegan version can be made by omitting the cheese entirely, though you may want to enhance the seasonings or add a tablespoon or two of nondairy cream to the pasta while mixing in the tomatoes.
---
Review our Best Summertime Pasta with Fresh Tomato, Basil, and Garlic:
Thanks for your reviewing this recipe! We are looking over your comments and will post as many as possible.
---