All Recipes
|
Breakfast
|
Lunch & Light Dishes
|
Dinner
|
Treats
|
Key Recipes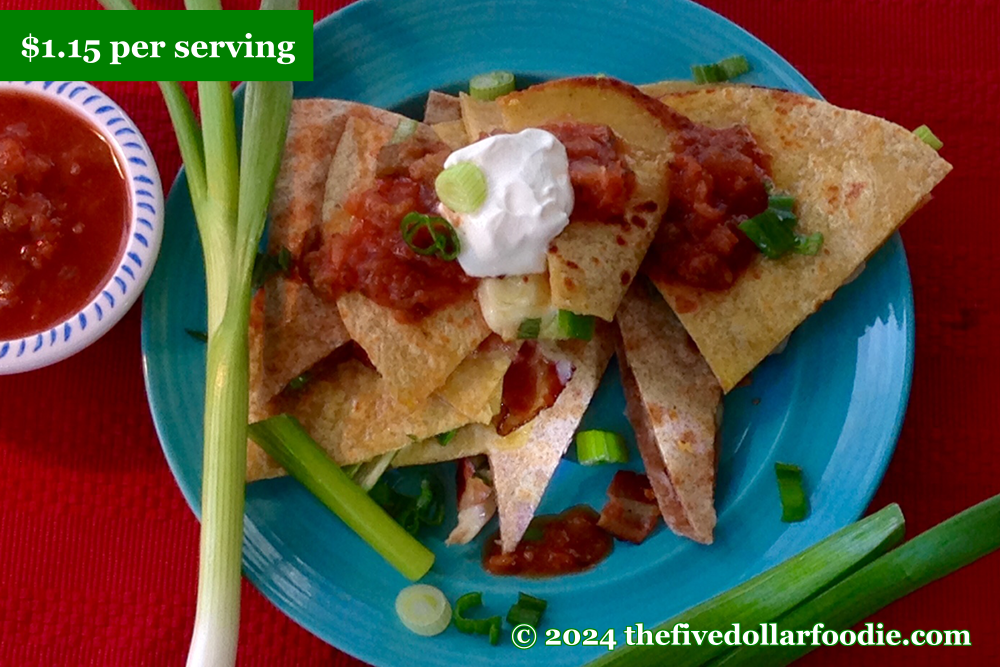 This simple, zesty dish relies on tortillas to make the budget work. It's filling and quick to prepare. The tortilla is an excellent, economical staple, but ordinary quesadillas become more interesting with the addition of crispy bacon and scallion. Top with sour cream and fresh salsa for a foodie treat.
Makes 2 Servings - $1.15 per serving Show Detailed Pricing
2 bacon strips
2 tortillas, large (use corn tortillas for gluten-free)
3 ounces cheddar cheese (or monterey jack cheese), shredded
2 teaspoons scallion, finely chopped
2 teaspoons salsa
2 teaspoons sour cream
Prep Time: About 5 minutes
Cook Time: About 15 minutes
Instructions:
Cook the bacon until crisp, pat excess oil dry and cut it into bite-size pieces.
In a large nonstick or cast iron skillet over medium heat, place a tortilla and lay half of the cheese, bacon, and scallions over one half of the tortilla, leaving one half of the tortilla without toppings. Cook for 2 minutes, then fold the bare half over the fillings. Continue cooking until the tortilla turns golden brown and slightly crispy, flipping once, at about 5 minutes. Repeat with the second tortilla, using the remaining cheese, bacon and scallion.
Serve with salsa and sour cream and garnish with extra scallion.
Notes:
extra cheese can be frozen for another use—rather than molding away in the fridge.
---
Review our Bacon-Scallion Quesadillas:
Thanks for your reviewing this recipe! We are looking over your comments and will post as many as possible.
---
Mandy F. on 1/23/2018
I love bacon.
Rating:
Derek T. on 1/18/2018
My only recommendation: double the Bacon! But I think bacon makes EVERYTHING better. Great recipe.
Rating:
Lisa A. on 1/15/2018
I took these to an appetizer party. Everyone loved them.
Rating: