All Recipes
|
Breakfast
|
Lunch & Light Dishes
|
Dinner
|
Treats
|
Key Recipes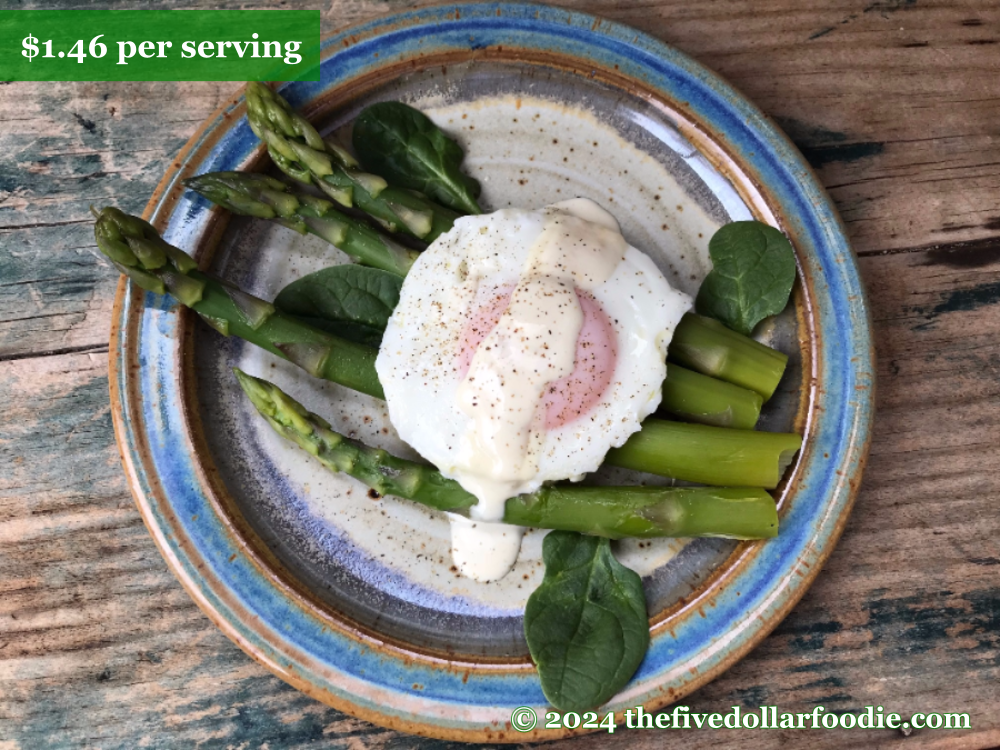 A springtime treat, bright-green asparagus spears are topped with pan-poached eggs. The creamy mayo-mustard-lemon sauce brings it all together. The sauce, a Dijonnaise with citrus, is ridiculously easy to make, and our "pan-poaching" method proves more dependable than traditional poaching. Savor as a light lunch or brunch. It will give you that "I'm in a French cafe" feeling, guaranteed.
Makes 4 Servings - $1.46 per serving Show Detailed Pricing
3 tablespoons mayonnaise
1 teaspoon dijon mustard
1/2 lemon, juiced
3/4 pound asparagus, fresh
1 tablespoon olive oil
4 eggs
1 pinch salt
* 2 ounces fresh baby spinach, arugula, or lettuce leaves for garnish
* 1 tablespoon dill, chives, or thyme, minced
1 pinch black pepper
*Optional ingredients are not counted towards pricing
Cook Time: About 10 minutes
Instructions:
Prepare the sauce by placing in a small bowl the mayo, mustard, and juice of half a lemon. Mix well with a fork until the sauce is smooth.
Half-fill a shallow pan, large enough to hold the asparagus, with water and bring to a boil. Meanwhile, rinse asparagus and trim away tough ends.
Place asparagus in the boiling water and cook, uncovered, for about 5 minutes, or until just tender when pierced with a fork. Leaving the pot uncovered preserves the vegetable's bright green color.
Drain asparagus and place it on a warmed serving platter or divide among 4 individual plates.
In a medium-size nonstick pan, place the olive oil and a tablespoon of water and heat for a minute on medium high. Then break 4 eggs into the pan, add a dash of salt, and cover the pan. Cook until the eggs are nicely set, about 3-4 minutes, and are as soft or firm as you like.
Place the eggs on top of the asparagus and spoon the lemon sauce over the eggs. The optional spinach, arugula or lettuce leaves make a nice garnish, as well as fresh herbs. Top with freshly ground black pepper.
---
Review our Asparagus and Eggs with Creamy Lemon Sauce:
Thanks for your reviewing this recipe! We are looking over your comments and will post as many as possible.
---