Tea sandwiches somehow transform basic ingredients into a special, tasty, bite-size treat. Whether you have them for lunch or afternoon tea, they are so simple to make and so extraordinarily delectable. The key is to use thinly-sliced bread with crusts removed. We paired cucumber with cream cheese, avocado, and mint, and egg salad with dill and stoneground mustard. You can enjoy them knowing that each serving of four mini-sandwiches costs under $1.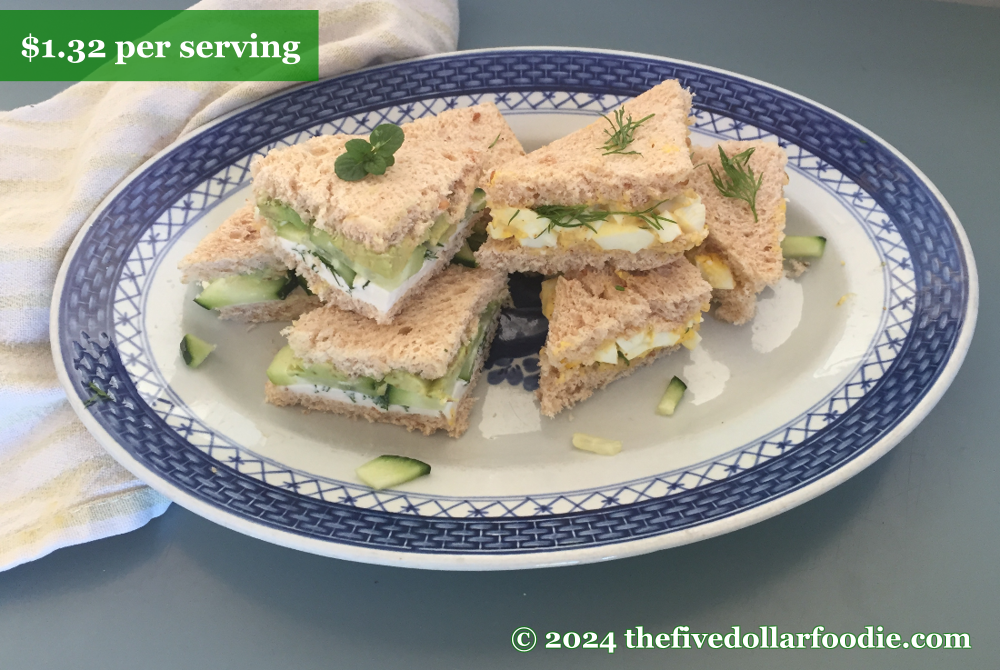 Makes 4 Servings - 95¢ per serving Show Detailed Pricing
8 slices of thin bread, crust removed
2 ounces cream cheese
1 small cucumber, thinly sliced
1 avocado, sliced
1 pinch mint leaves
2 eggs
1 teaspoon stoneground mustard
1 teaspoon mayonnaise
1 pinch dill (fresh), finely chopped
salt and pepper, to taste
1. Spread the cream cheese evenly on two slices of bread. Layer on top the cucumber, avocado, and mint and top with another slice of bread.

2. For the egg salad sandwiches, boil the eggs until done, about 10 minutes, and rinse in cold water to cool. Peel the eggs, dice them up, and put them in a bowl. Add about a teaspoon (to taste) of stoneground mustard (spicy or dijon mustard also works), and a teaspoon of mayonnaise. Toss in a pinch of fresh dill, and salt and pepper to taste.

3. Press each sandwich lightly together. Slice the sandwiches in half on the diagonal, and then in half again to achieve triangular shapes.
Thanks for your reviewing this recipe! We are looking over your comments and will post as many as possible.